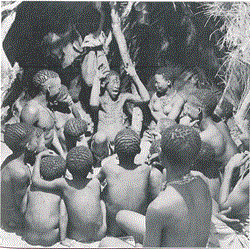 I'm for infinite possibilities. If you don't like the way the world looks straight ahead, use your peripheral vision.
Seattle, WA (PRWEB) January 31, 2014
It may be that the difference between humans and other life form is that people tell stories. From the furthest reaches of human history, people have shared stories about their tribe, their origins, and their battles. And whether around a campfire, with a book under the covers, or on a Retina display, people are still telling their stories.
Cooper Edens' new App, "One More Star" continues that tradition, but with some key twists to the old traditions.
A lot of the old stories, from The Odyssey to Alice in Wonderland, focus on a hero, someone who is called out to be special, to do something that only he or she can do, and to save his family or nation. As long as the hero is on her quest, the world is enchanted, not like dull day-to-day existence. For the reader, it offers escape, never-never land.
For Cooper Edens, the inescapable reality is that while most people don't live in the hero's world, the world is enchanted enough.
"We don't feel like heroes," Cooper says. "Most of us get hung up when a frustration or disappointment pops up in our lives. We can try to deny it, but sooner or later, we have to deal with it. And then it's gonna happen all over again, only different. So there are no classic quests in my books. I don't have characters who go away to the dream world and then return to reality."
"Cooper Edens One More Star" instead presents not a single hero, but a series of situations. "If the stars burn out…" or "If the sky fills with clouds…" and then provides a solution that challenges the reader to alter the frame of reference, to see truths hidden behind our perceptions.
"I'm for infinite possibilities," Cooper says. "If you don't like the way the world looks straight ahead, use your peripheral vision." For Cooper, an obstacle or a loss is an excuse to use your imagination to really see the opportunities all around us.
"One More Star" is the second of his books that have been re-created as an app, and Cooper sees the technology as helping readers see more forcefully the dream/reality he describes. "First of all, we've got great animations, and as a result we've got the time-and-motion thing going on, the feeling of moving through space, music and sound effects, and the different ways different readers can play with the animations, or just turn the page. I think the App helps us include the reader in an experience that's more unexpected and entertaining, and more personal."
"Cooper Edens One More Star" is available, for the iPad, from the App Store—$8.99. (https://itunes.apple.com/us/app/cooper-edens-one-more-star/id792154901?mt=8).
About Cooper Edens: Cooper Edens is a Seattle-based author and artist. He has written and illustrated original works, like "If You're Afraid of the Dark," "The Star Cleaners Reunion," Secret Friends" and "Caretakers of Wonder." He has also compiled a number of "Classic Illustrated Editions" of The Adventures of Alice in Wonderland, Robin Hood, Tales from the Brothers Grimm, and others.
About Lucid Dream Atelier: Lucid Dream Atelier, Inc. creates, develops and publishes digital graphic books and apps. "Cooper Edens One More Star," is their fifth publication, and their second collaboration with Cooper Edens. ("Cooper Edens Night Rainbow" is also available from the App Store, https://itunes.apple.com/us/app/cooper-edens-night-rainbow/id694877155?mt=8&ign-mpt=uo%3D2.)