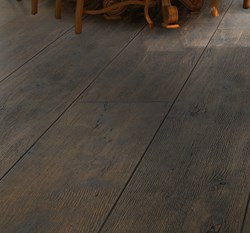 We had our best attendance yet. We're excited to introduce Chateau Collection and our customers are sharing in this excitement.
Las Vegas, NV (PRWEB) February 02, 2014
At this year's Surfaces, CFS introduces its newest product, the Chateau Collection, extra-wide plank engineered flooring. The Chateau Collection offers some of the widest engineered flooring on the market. The Chateau Collection comes in six amazing tones.
The Chateau Collection is extra-wide extra-long engineered flooring. It has an interesting wire distressed surface that gives the look of reclaimed vintage floor boards but at a much lower cost. Chateau Collection is introduced at this year's Surfaces to the joy and amazement of those in attendance.
CFS Corporation is a national wholesale distributor of hard surface flooring. With over 2,000 agents and retailers, CFS offers quick-ship capability to customers across the U.S. and in select Canada markets. Based in Suwanee, GA, CFS has distribution facilities in Calhoun, GA, Oakland, CA and Shanghai, China. For more information please visit cfscorporate.com.
"We had our best attendance yet. We're excited to introduce Chateau Collection and our customers are sharing in this excitement." Bill Bryan, CFS Marketing Manager. (By Bill Bryan, Atlanta, GA, USA)