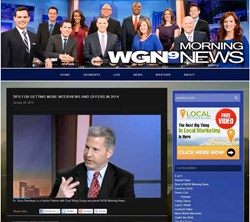 Interviewing is about proving your value to the marketplace.
Chicago, IL (PRWEB) January 31, 2014
Job interviewers today have much more competition for jobs than ever before. The need to stand out in a crowded market, prove your value and justify job changes or layoffs is difficult. "This weekend's Superbowl is a great example about how commercials compete to stand out," says Riendeau. "Interviewing is about proving your value to the marketplace. You prove it by showing physical evidence, pictures, data and references that confirm you can transfer that success to another job. Creativity in showing your skills is critical."
Dr. Russ Riendeau, Senior Partner of East Wing Group, Inc., a retained search firm, delivered insightful ideas to the viewing audience on January 28th on WGN morning news.
With less than 25% of hiring executives in today's marketplace having had professional interview training, it is challenging for job applicants to demonstrate value. With lack of interview training, managers rely on simple questions, old habits and out-dated beliefs around what a qualified candidate looks like. Candidates, conversely, falter in interviews due to lack of proof in validating one's value and strengths in their jobs.
Dr. Riendeau, a behavioral psychologist, presented ideas on how to interview more effectively by addressing the unspoken issues. Some of these ideas included:
1. Research the person you're interviewing with on LinkedIn and other social media sites to learn about who the person is and then tailor your vocabulary, experiences and analogies that will better resonate with the interviewer's experience. Knowing that person's job history also gives clues to the kind of business culture they enjoy.
2. Do not discuss compensation until an offer is discussed. Delay the money discussion until you prove you will solve their problems. Then you can negotiate the best offer.
3. Confess your sins. If you were laid-off, terminated or have excessive job changes, admit to the interviewer that you made mistakes, why you were not the right person for the job, and then explain what you learned and what your doing to correct this. Don't make excuses or blame others for your lack of success. Nobody wants to hire a person that believes they are the victim.
4. Show proof. Talk is cheap and if you can't prove your accomplishments or talents, the interviewer will think you're lying. Have pictures, letters, data sheets--anything that proves you have been successful in your work.
5. Take notes during the interview and have a list of questions. It's insulting to the interviewer if they share information and you don't write even a few ideas down. Show you are detailed and are listening.
6. Don't touch your cell phone during the interview. Turn it off or you'll turn the interviewer off.
Interviewing is about showing your value to the marketplace and how adaptable your skills are to new jobs.
Russ Riendeau is also the author of the audiobook, First Hide The Poison Arrows, that addresses ideas on sales and leadership effectiveness in our post-recession economy.
For more information, call 847-381-0977.