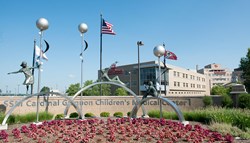 'The Child Life team is so glad to have a partnership with Kids Wish Network,' relays Hedgpeth. 'This program gives all staff an opportunity to celebrate our might heroes' success stories.'
St Louis, MO (PRWEB) February 04, 2014
Kids Wish Network is overjoyed to announce SSM Cardinal Glennon Children's Medical Center as an Honored Hero Facility of 2013 for going above and beyond to celebrate these uplifting children.
The recipients of the Hero of the Month program have faced and overcome difficult and often tragic circumstances with courage and spirits that serve as an inspiration to us all. Paying tribute to these children's ability to overcome adversity makes a real and positive difference in their recovery.
To celebrate the nominated kids, SSM Cardinal Glennon hosts a surprise party in its teen lounge. Each hero is presented with a Kids Wish Network certificate, HERO shirt and wristband, Guardian Angel coin and a gift card. The patient's family members are also invited to join in for the festivities.
"Our patients feel like it is quite an honor to be nominated for Hero of the Month," says Certified Child Life Specialist Abbie Hedgpeth. "They are so proud of themselves, and this is a huge incentive for our patients to continue with their care and treatment, especially on the days they are feeling down."
SSM Cardinal Glennon honored 13 heroes in 2013. The center is a not-for-profit, 190-bed inpatient and outpatient pediatric medical center that specializes in neonatology, cardiology, pediatric and fetal surgery, and cancer services. With a 51-year history in the St. Louis community, SSM Cardinal Glennon treats kids from Missouri, Illinois, and around the world.
"The Child Life team is so glad to have a partnership with Kids Wish Network," relays Hedgpeth. "This program gives all staff an opportunity to celebrate our might heroes' success stories."
Kids Wish Network is delighted to acknowledge the staff at SSM Cardinal Glennon and recognize them for their dedication to the Hero of the Month program. Thank you to Whisk, A Sustainable Bake Shop in St. Louis for donating treats in the staff's honor.
Kids Wish Network is a Florida-based charitable organization dedicated to infusing hope, creating happy memories, and improving the quality of life for children having experience life-altering situations. More than just granting wishes, Kids Wish Network makes a difference through its various other programs by delivering hope to kids across the United States. Come see the Kids Wish Network difference at http://www.kidswishnetwork.org.
For more information about SSM Cardinal Glennon, please contact Mary Foshage at (314) 577- 5615 or visit http://www.cardinalglennon.com.
Every child deserves a chance at happiness; a wish is a way of bringing them that joy. If you would like to sponsor a child's wish or if you know a child who is suffering from a life-threatening illness and may be in need of Kids Wish Network's wish-granting services, please call (727) 937-3600 or toll-free (888) 918-9004.