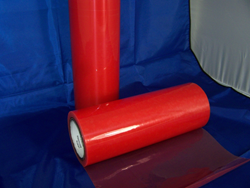 Riverhead, NY (PRWEB) March 05, 2014
Adchem Corporation has engineered a high caliper acrylic adhesive double-sided PET tape. The 3.5 mils per side acrylic tape is manufactured in the U.S. on a red polypropylene release liner used in bonding wood, EPDM and rubber extrusions, LSE plastics and finishes, as well as, many species of wood materials. "RED" as the product is known in the tape converting industry has hundreds of applications in automotive, furniture manufacturing, electronics, and transportation markets.
Engineered specifically for high immediate bond strength and durable-long lasting bonding applications, 488M is the choice when high tack, higher temperatures and high shear properties are needed. The converter friendly RED liner allows for precise die-cutting and slitting. The two-sided, high tack, high shear PSA is 8.0 mils total thickness and utilizes an aggressive acrylic adhesive system on a 1 mil PET film carrier.
The newly released product demonstrates exceptional bond to EPDM's and low surface energy substrates such as TPO's, polypropylene, polyethylene, as well as powder-coated paint surfaces, ABS, wood and rubber components. More detailed product information is available at http://www.adchem.com/Main/ProductSpotlight488M-PP-54.aspx.
About Adchem Corporation
Adchem is ISO 9001-2008 certified with A2LA laboratory accreditations to ISO 17025. The 50 year old company engineers and manufactures pressure-sensitive adhesive tape systems, including double-sided papers, films, tissues, foams and fabrics; transfer tapes; one-side coated products and other custom-coated specialty products. 100% solids adhesives, solvent and water based acrylics and rubber adhesives are used in a variety of industries, including automotive, construction, electronics, graphic arts, medical, transportation and general industrial tape applications. Adchem recently announced its certification under the newly established Responsible Tape Manufacturer (RTM) program of the Pressure Sensitive Tape Council (PSTC).
For additional information and samples, please contact Adchem Corporation, 1852 Old Country Road, Riverhead, NY 11901 Phone: (631) 727-6000 Fax: (631) 727-6010 or our website at http://www.adchem.com.