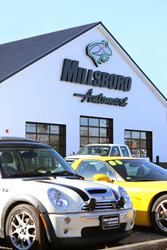 They have access to over 500 pre-owned vehicles.
Millsboro, Delaware (PRWEB) February 26, 2014
There are many benefits to buying a pre-owned vehicle from Millsboro Automart. Millsboro Automart recently opened a brand new facility and is currently doing a Mission Possible Pre-Owned Surplus Sell-Off. They currently have the largest inventory ever of pre-owned vehicles.
The first benefit is price. Buying a new vehicle is expensive, especially once the customer wants high trim levels. A used car is going to be less expensive and could even allow the customer to step up to a nicer model than expected. It becomes possible to get all the features desired in a vehicle that would be extremely expensive when buying new. Most used vehicles have the same desirable features as brand new ones.
Another important benefit is that used vehicles don't depreciate as much as new vehicles. Cars lose value with each passing month and mile. The steepest decline in a vehicle's depreciation happens right away. Some models lose 40 percent or more of their value in the first year. With a used vehicle there is no depreciation set to hit the second the vehicle is driven off the lot. There is also mental depreciation. There isn't a need to worry about the first parking lot ding or rock hitting the paint. Pre-owned vehicles are not going to be perfect but they can be extremely close to it. Vehicles don't lose nearly as much value after the first year that they are driven off the lot.
Purchasing a used car will also affect insurance rates. But in this case the used vehicle tends to be less expensive. A little bit of pre-purchase research will save one from insurance sticker shock, no matter which vehicle they choose.
Although one obviously can't build a used car to order, someone may want a model, option package, or even wheel design that's no longer made. This wider selection can add to the length of the search, but perfection and satisfaction rarely come easily. There are a lot of pre-owned vehicles out there that have only had one owner. The chances of these vehicles being in excellent condition are very high. A car with one owner is less likely to have problems with it since many owners of newer model year vehicles keep their vehicles clean if they know they are going to trade it in.
With Delaware's Premier Used Car Dealership, Millsboro Automart, they have the ability to find used vehicles throughout the Preston Automotive Group and also find vehicles at the auctions they attend. If one is looking for a vehicle in particular just let Millsboro Automart know and they will find it.
Millsboro Automart has a huge inventory of pre-owned vehicles. They have access to over 500 pre-owned vehicles. Many of these vehicles are Certified Pre-Owned so they include great warranties.
About Preston Automotive Group
Preston Automotive Group services the Delaware, Maryland, Virginia and Pennsylvania areas with Ford, Lincoln, Mazda, Hyundai, and Nissan brands. The auto group carries the largest selection of new and used cars and trucks. Additionally, the dealership services all makes and models, both imported and domestic cars with ASE certified and factory trained technicians. To further serve your automotive needs the Preston Automotive Group is also home to 3 auto body shops conveniently located around Delmarva in Preston, Cambridge, and the newest facility in Snow Hill, Maryland.
Millsboro Automart has been a part of the Preston Automotive Group family of dealerships since 1987. Serving Millsboro and the surrounding Delaware areas with the largest selection of quality pre-owned cars, trucks, and SUVs. Delaware Used car dealer, Millsboro Automart now has the ability to sell and maintain your vehicle with the new facility. Whether you need an oil change or parts for your vehicle, Millsboro is your #1 stop.