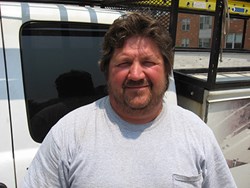 When I first started with the company in 1989, Eric Jurin impressed me with his hands-on approach as a business owner.
Quakertown, PA (PRWEB) January 31, 2014
Mike Bleiler first joined Jurin Roofing Services in 1989. Since that time, Mike's technical knowledge and project management skills have become well respected throughout the roofing industry for all types of roofing projects. Jurin Roofing's clients have come to depend on Mike's ability to produce superior, quality roof installations while developing and maintaining excellent relationships with the tenants, property managers, owners, and consultants. During his years with Jurin he has not only revised and grew the function of the foreman position and construction team responsibilities to drastically reduce monthly expenditures, but he also personally recruits, hires, trains, and supervises the entire construction crew.
When asked about his 25 years with the company and what has made him stay, Mike replied, "It's more like a family than a company. I've worked closely with Eric and Chris Jurin since I started here at Jurin Roofing and I believe in their vision for the roofing industry. Not only that but they have always gone out of their way to help me grow in my position as well as giving me the opportunity to change processes within the company when I feel I can improve upon them. I can take pride in the company I work for knowing that quality work is as important to them as it is to me. When I first started with the company in 1989 Eric Jurin impressed me with his hands-on approach as a business owner. He was right there with me on my first roof project showing me the ropes. We've been learning from each other ever since. You can really respect a man who isn't afraid to get his hands dirty."
Mike and his crews have successfully installed over 12,000,000 sq. ft. of single ply membrane while consistently leading Jurin Roofing in meeting and exceeding profit and loss and operational performance based on project schedules and budgets. Self-motivated and innovative, his ability to collaborate with executive management and his crews in determining the viability of projects by advanced project management planning and in developing plans to address risk, contingencies, and recovery strategies makes Mike a valuable employee. Mike also possesses expert skill and a unique talent in reviewing and revising comprehensive technical reports as well as construction plans and details.
An excellent planner and communicator, Mike is responsible for leading crews of varying sizes to complete various scopes of work. His leadership skills and ability to motivate his crew members in a positive fashion promotes the success of his crews as well as the success of the company. His specific responsibilities include job site safety, coordination of all sub trade work, project scheduling, direct labor activities, detailed daily reporting, change order management, and coordination and communication of all site issues and quality control. Mike's personal hands-on approach allows him to maximize productivity while achieving only the highest standards of quality work.
Mike is certified in the OSHA 30-hour safety training and Asbestos 40-hour Supervisor training; is an NRCA Certified Roof Torch Applicator, and has completed several manufacturer training sessions. His in-depth knowledge of roofing industry practices as defined by the NRCA as well as the leading roofing manufacturers coupled by his extensive years in the roofing industry make Mike a strong leader for Jurin Roofing and the roofing industry.