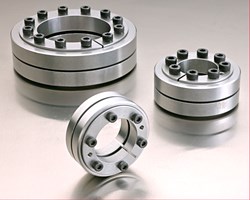 Manheim, PA (PRWEB) February 01, 2014
Fenner Drives is pleased to announce the launch of a revolutionary new series of B-LOC® Keyless Locking Devices – B-LOC Compression Hubs. B-LOC Compression Hubs offer customers a better way to mount components by eliminating the need for a hub. This new, patent pending, line of locking devices is available, and in stock immediately.
B-LOC Compression Hubs operate in a similar manner as other B-LOC Keyless Locking Devices; axial force is applied by tightening a series of screws to engage sets of mating tapered rings. The inner tapered rings create radial force on the shaft, resulting in a high-pressure frictional connection. However, the difference from other keyless locking devices is how B-LOC Compression Hubs engage the mounted component. Rather than creating a radial force on the mounted component, the outer tapered rings are drawn together to generate an axial clamping force on the mounted component.
B-LOC Compression Hubs, like all other keyless connections, offer many benefits over traditional shaft connections: lower cost designs; zero backlash; infinite radial and axial adjustment; and easy installation and removal. The mounted component is held in place by axial compression, eliminating the need for a traditional hub configuration for thin components (e.g. chain sprockets). This reduces the overall cost of the mounted component. In addition, this benefit facilitates a keyless connection for components made from lower strength materials.
###
About Fenner Drives
Fenner Drives, headquartered in Manheim, Pennsylvania, is a worldwide leader in the design and manufacture of added value, problem solving products for power transmission, motion transfer and conveying applications. With over 200 employees and ISO 9001 certified production facilities in Manheim, Pennsylvania and Wilmington, North Carolina, we have a wealth of manufacturing, technical and commercial expertise. Fenner Drives is a division of Fenner PLC. With over 5,200 employees worldwide, Fenner PLC is a leading global provider of local, engineered solutions for performance critical applications.