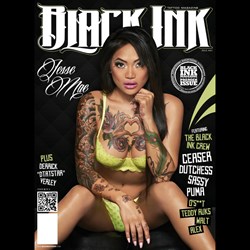 Harlem, New York (PRWEB) January 30, 2014
New York's hottest tattoo reality TV show has just inked its biggest project to date. Viewers have fallen in love with the crew's incredible creativity and artistic ability but this time they're putting their artwork on your newsstand instead of your skin. On Sunday January 26, 2014 the Black Ink monthly tattoo magazine became available all across America. The full color publication features celebrity tattoos, editorial features, and updates from your favorite characters from the Black Ink Crew.
The magazine is riding the coattails of the TV show's tremendous success. The show is beginning its third season this summer and VH1.com has recently praised the show for being one of the network's top rated shows and for reaching one million fans on Facebook!
At the helm of all this success is Black Ink Studio owner, Ceaser Emanuel. Ceaser is the brains of the operation and the star of the show. He is also the passion behind the expansion of the Black Ink brand and the managing editor of the new magazine. Ceaser has always wanted to create a magazine that creates a platform for all cultures, races, and people groups to express their passion for body art.
"This publication is something that the entire Black Ink Crew is proud of. We've already received a lot of anticipation and support and we're using this opportunity to expand beyond the urban market and into every stream of media. We are also excited to reveal the magazine's shocking exclusives and creative photography." -Ceaser Emanuel
To learn more about Ceaser Emanuel contact Domenick Nati at NatiCelebs(at)gmail(dot)com or visit http://www.CeaserEmanuel.com.