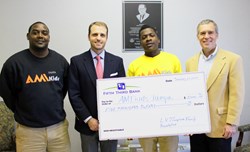 Investing in AMIkids is investing in our community's future.
Tampa, FL (PRWEB) January 31, 2014
AMIkids Tampa announced it has received a $5,000 grant from the L.V. Thompson Family Foundation. Funding from the Foundation will help support Hillsborough County area at-risk teens attending the program for education, counseling and behavioral support services.
AMIkids Tampa, a non-profit organization working in partnership with Hillsborough County Schools and the Florida Department of Juvenile Justice, provides community-based services where youth reside at home and attend the program daily, giving AMIkids the opportunity to work with the kids and family together to promote long-term success.
The L.V. Thompson Family Foundation, created in 2006 by Tampa businessman Les Thompson, supports organizations that enrich the Tampa Bay community, including children's charities, animal causes, education and the arts. Since inception, the Foundation has invested nearly $1.4 million in the local community.
"The support from L.V. Thompson Family Foundation will have a tremendous impact on AMIkids Tampa, giving kids access to the tools they need to succeed where they have experienced failure in the past. That feeling of success gives them the inspiration to renew their commitment to learning and that is the first step of transformation," said Justin Day, President of the AMIkids Tampa Board of Trustees. "Investing in AMIkids is investing in our community's future. Our kids are the future students, employees and citizens of Tampa Bay and we are preparing them to realize their fullest potential."
To learn more about AMIkids Tampa, visit http://www.AMIkidsTampa.org.
About AMIkids
Founded in 1969, AMIkids, Inc. is a nationally recognized not-for-profit that offers a promising future to more than 5,000 kids each year through positive and motivating programs that inspire learning, leadership and personal growth. Through education, counseling and behavior modification students are empowered to make positive decisions that will ultimately shape their future and allow them the opportunity to transform their lives. For more information, visit http://www.AMIkids.org.