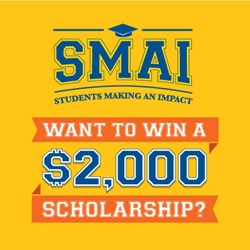 Toronto, Ontario (PRWEB) January 31, 2014
Benson Kearley IFG, the Newmarket-based insurance firm, is encouraging grade 12 students starting their first year of post-secondary education, to apply for the Students Making an Impact Award (SMAI).
The $2,000 scholarship offered by BKIFG will reward a student that is making an impact in their local communities, who has shown great initiative, or has started a business while still in high school.
"We want to help students advance their entrepreneurial or philanthropic endeavours and to provide resources such as funds for university or college, mentors, or an introduction to bigger opportunities," says Stephen Kearley, President at Benson Kearley IFG.
Kearley is currently in the process of launching the Global Student Entrepreneur Awards program in Canada. This program is geared towards full-time university students who are operating a business. The GSEA's are a global program bringing student entrepreneurs together, allowing them to compete, and expose their businesses on a global stage.
Wanting to bring these opportunities to high school students and expose them to possibilities, Kearley created the Students Making an Impact Award. "These students see the world ahead of them as full of opportunities. They are our leaders of tomorrow," he states.
The scholarship is available to students in their final year of high school and entering their first year post-secondary education. To be eligible, applicants must be pursuing a full-time program and working towards an apprenticeship, trade certificate, college diploma, or a university certificate or diploma, including a bachelor's degree, master's degree or doctorate.
Benson Kearley IFG is well-known for their community give-backs. The firm recently hosted Toronto Maple Leaf goalie, James Reimer, for a free autograph signing in Newmarket, and also reunited a family over the holidays through their Home For Holidays campaign which received CityNews video coverage.
"Giving back is a big part of who we are at BKIFG," says Kearley. "Young people are founding charitable and non-profit organizations that will impact so many others. If we can give them a leg up, just how many lives will be positively impacted?"
BKIFG invites first-year students to apply.
For further details about the scholarship please see studentsmakinganimpact.com.
Application deadline is March 30th, 2014.