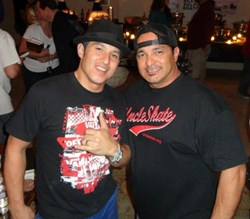 Jeff Araiza will be a great President for 2014.
Phoenix, AZ (PRWEB) January 31, 2014
Uncle Skate Charity a 501 (c)3 non-profit announces its President for 2014 to be veteran skateboarder and skatepark builder Jeff Araiza. With a skatepark collaboration in the works for 2014 for Uncle Skate and municipalities, his previous experience working on skateparks across the United Sates will be a huge help in 2014. Araiza's commitment to the industry and skateboard community is to be recognized.
Araiza recently completed work as a volunteer for Make-a-Wish foundation on the project "A Skatepark for Jonah" in California. Before he got sick and was diagnosed with an aggressive form of brain cancer called glioblastoma multiforme, Jonah was a skateboarding fanatic. Jonah underwent surgery in January of 2013 when he was 14 years old. The surgery was followed by six weeks of chemotherapy and radiation, then monthly trips to UCLA for more radiation and antibody treatments as part of a clinical trial. Jonah is continuing monthly trips to Los Angeles and is also working hard in speech therapy, physical therapy and occupational therapy, where he's recently regained enough use of his right hand to use chopsticks.
"We are all very proud to have Jeff Araiza lead us in 2014," Morgan Ellig Board of Director member for Uncle Skate Charity.
Araiza brings over 30 years of skateboarding experience and over 15 years of skatepark experience to the Charity. In addition he has 5 years of non-profit public service as a board member of Uncle Skate Charity.
Uncle Skate Charity is a non-profit foundation for skateboarders and their mission is to donate free skateboards to children around the world by connecting to the world by the use of global contributions of equipment and skateboards. They help people both young adults and children to realize their potential and help build their future. This charity created a sense of awareness especially to those less fortunate all over the world and they have developed vital components that can provide lasting and direct effect on young people lives.