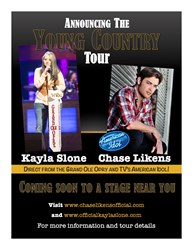 The great thing about this tour is the broad variety music fans will experience; Chase has a more rowdy contemporary country style, and Kayla just kills those country classics.
Nashville, TN (PRWEB) January 31, 2014
Two of country music's brightest young stars are touring together for the first time and bringing their YOUNG COUNTRY TOUR to a stage near you.
The two buzzed-about young country artists will each perform their own set as well as several duets. The tour is being booked and routed by The Bazel Group in Nashville TN. "The great thing about this tour is the broad variety music fans will experience; Chase has a more rowdy contemporary country style, and Kayla just kills those country classics," said Ed Bazel, head of The Bazel Group on Nashville's Music Row.
The dynamic duo is set to perform throughout West Virginia beginning in mid-February. Their tour stops include:

Logan, WV on February 22nd at the Coalfield Jamboree
Buckhannon, WV on February 28th at the Mountain View Event Center
Marlinton, WV on March 1st at the Pocahontas Opera House
Beckley, WV on March 15th at the Raleigh Playhouse
Milton, WV on March 22nd at the Milton Performing Arts Center
Ripley, WV on March 29th at the Alpine Theatre
Tickets for American Idol semi-finalist CHASE LIKENS and Grand Ole Opry performer KAYLA SLONE will be made available for purchase through http://www.officialkaylaslone.com and http://www.chaselikensofficial.com. You can also contact (703) 589-8960 or jessica (at) allenmediastrategies (dot) com to learn more about purchasing tickets for each show.
The Artists:
CHASE LIKENS is a triple threat; a country music singer, songwriter and actor, who recently was a Top 12 Males Finalist on American Idol Season 11, winning the praise of judge Jennifer Lopez who said of the country hunk: "You've got the movie star good looks for sure, but you sounded great tonight, as well. Tonight is about showing America who you are, and you definitely did that with that song. I look forward to seeing where you go." "You definitely have range," said veteran judge and music executive Randy Jackson "You're ready dude. You're ready." "Welcome to American Idol, cowboy," said judge Steven Tyler of Aerosmith.
Since Idol, Likens has wowed fans performing at fairs and festivals throughout the U.S., sharing the stage with Lady Antebellum, Hunter Hayes, Thompson Square, and America's Got Talent winner Landau Eugene Murphy Jr. among others. Chase recently performed at the prestigious Zeigenbock Fest in Houston alongside notable Texas Country artists Kevin Fowler, Roger Creager, and Randy Rogers. His new single "No Other Girl" is available on iTunes and was serviced to Country radio stations nationally. Chase will be embarking on a 20-city radio tour starting in late spring. His debut CD will be released this summer. Visit Chase online at http://www.chaselikensofficial.com.
KAYLA SLONE says it all started at the checkout counter at a Walmart store deep in the foothills of West Virginia, where she would sing to her customers while working the register. One of them whipped out a smart phone and shot a video of Kayla's authentic Appalachian crooning to later post it online. That brief clip soon went viral, garnering hundreds of thousands of views worldwide.
Soon, a local ABC reporter saw the video of Kayla's heartfelt rendition of Loretta Lynn, Dolly Parton and Reba McEntire classics online, found her still singing at Walmart and did a story about Kayla for the evening news. That story soon made its way to ABC WORLD NEWS TONIGHT'S Diane Sawyer, who featured Kayla on her national evening newscast. GRAND OLE OPRY executives were watching, and soon Kayla was standing on that world-famous stage, receiving a standing ovation from the sell-out Opry crowd while ABC filmed it all for yet another national news story.
Since then, Kayla's life has been a whirlwind; her first ever trip to New York City for a national TV appearance on the ANDERSON COOPER SHOW, a backstage meeting with country chart topper Dierks Bentley and a personal invitation to join him in Las Vegas for the Academy of Country Music Awards, then an invitation to perform for top Walmart corporate executives at company meetings in Bentonville, Arkansas, who featured Kayla in a full page article in their corporate magazine. Perhaps most poignantly, the young singer received words of encouragement followed by an invitation to perform with the undisputed Queen of Country Music, Loretta Lynn. "She was so kind and so humble; I can't tell you what an honor it's been to just be in the same room with Loretta, much less share a stage with her," Kayla said. Kayla's also shared the stage with The Marshall Tucker Band and Confederate Railroad and is "excited to take our old smelly tour bus out with Chase Likens; it's gonna be fun!" Visit Kayla Slone online at http://www.officialkaylaslone.com.
Chase Likens is managed by John Gomez of Silver Tongue Management in Austin, TX, Kayla Slone is managed by Burke Allen of Allen Media Strategies in Washington, DC. For tour booking information, contact The Bazel Group at (615) 847-1105 or edbazel (at) thebazelgroup (dot) com.