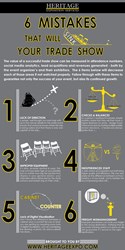 (PRWEB) February 18, 2014
The value of a successful trade show can be measured in attendance numbers, social media analytics, lead acquisitions and revenues generated – both by the event organizers and their exhibitors. The 6 items below will decrease each of those areas if not watched properly. Follow through with these items to guarantee not only a successful event, but also the event's continued growth.
1. Lack of Direction
A proper, well thought out road map with up-to-the-minute details for the entire event ensures that everyone knows where the ship is being sailed and that there is only one captain of the ship…
2. Checks & Balances
As a person's workload increases, simple statistics state that they will then have a higher likeliness for errors. Hedge those chances for error by having multiple parties review decisions. 2 heads are always better than 1…
3. Improper Equipment
It is dirty, severely dented & used. This may not have been high on your priorities, but no matter how big the pyrotechnic display in the general session, the attendees will be distracted by the sticky surface and broken leg on the chairs…
4. Inexperienced Staff
A well vetted and experienced staff bring higher quality and efficiency. This can very easily be the difference between a 4 hour install & a 12 hour install – not to mention the accompanying labor bill…
5. Lack of Digital Visualization
Don't know the difference between a cabinet and a counter? Be sure of what will be delivered on show-site by requiring some form of digital visualization, such as a rendering, line drawing, or photo. Oh, and a cabinet has doors…
6. Freight Mismanagement
Improper procedures can route freight to the wrong destination. Verifying that an accurate tracking system is in place on site will guarantee freight arrives to the right destination.