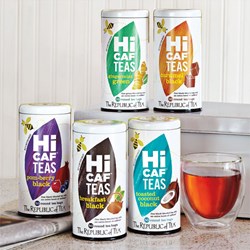 Novato, CA (PRWEB) February 04, 2014
The Republic of Tea, leading purveyor of premium teas, has introduced HiCAF™ Teas, its first collection of premium, high caffeine, natural energy teas. Caffeine naturally occurs in tea leaves along with L-theanine (often credited with reducing stress). This combination creates a state of calm alertness. The Republic of Tea has intensified the effect by adding green tea extract, known to have more caffeine than coffee, so tea drinkers can quickly get a healthy jump on the day. This new collection includes five innovative flavors: Breakfast Black Tea, Caramel Black Tea, Pom-Berry Black Tea, Toasted Coconut Black Tea and Gingermint Green Tea.
The Republic of Tea's HiCAF tea collection is all-natural, Certified Gluten-Free and delicious when served hot or over ice for on-the-go, buzz worthy refreshment:
•HiCAF Breakfast Black Tea – The deep rich flavor of roasted chicory enlivens this satisfying blend of premium black tea and green tea extract. An ideal clarifying tea for those times when the mind needs to wake up.
•HiCAF Caramel Black Tea – Robust black tea with smooth caramel flavor. Envision a clear mind and renewed spirit as you satisfy your sweet tooth by sipping this rich, energizing tea with a splash of milk.
•HiCAF Pom-Berry Black Tea – A fine black tea with the juicy flavors of pomegranate and blueberry. Perfect for a mid-day fruit-filled energy buzz without the added sugar.
•HiCAF Toasted Coconut Black Tea – Robust black tea with the creamy, tropical flavor of toasted coconut. Refreshing, smooth and deliciously energizing with a splash of milk.
•HiCAF Gingermint Green Tea – This spicy green tea uplifts and recharges. Healthy ginger and cooling, aromatic mint add a zesty boost to help you weather even the busiest days.
Tea labels feature vibrant artwork and caffeine content is clearly indicated on the side of each tin. Each tin contains 50 round, unbleached tea bags free of strings, tags and staples. The suggested retail price for the HiCAF Teas is $13. The new Gluten-Free certified teas will debut in January 2014 at the Specialty Food Association's Winter Fancy Food Show. The full collection will be available for purchase nationwide in February 2014 at natural and specialty food stores, through the company website, (http://www.REPUBLICofTEA.com), mail-order catalogue and by calling 800.298.4TEA (832).
About The Republic of Tea:
The Republic of Tea enriches people's lives through its premium teas, education and innovation, as it emphasizes a "Sip by Sip Rather Than Gulp by Gulp" lifestyle. Founded in 1992, The Republic of Tea sparked a specialty tea revolution. Today the brand offers an unequaled selection of the highest-quality teas, herbal blends, books and nature-inspired sip ware, available exclusively at specialty retailers throughout the U.S. Further, The Republic of Tea is mindful of how its actions impact the greater community and actively supports worthy organizations like the Whole Planet Foundation, the Prostate Cancer Foundation, Room to Read, Action Against Hunger, The Ethical Tea Partnership, Rainforest Alliance certification and Non-GMO Project verification. For more information, please visit http://www.REPUBLICofTEA.com or call 1.800.298.4832. Follow The Republic of Tea on Twitter at twitter.com/republicoftea and Like us on Facebook at http://www.facebook.com/RepublicofTea.