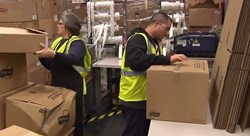 They far exceed the industry [turnover rate]. Normally we'd see turnover rates in the 10- to 15-percent range and we've seen basically no turnover. Most of these team members have been with us the entire time. We're really proud of the team.
(PRWEB) February 04, 2014
For more than 14 years, Developmentally Disabled Workers from VIP have been loyal team members at Frito-Lay's packaging facility in the Rancho Cucamonga, CA. A division of parent company PepsiCo, the world's leading snack-food manufacturer, Frito-Lay considers the developmentally disabled workers hired through VIP to be an important part of its labor force, a company official explained.
"When we first heard of VIP, we thought it was a real intriguing opportunity. We feel we need to be relevant within the community, and it was just a natural fit once we looked at what the VIP team could provide," Taylor said. "We felt that it would mesh very well with what PepsiCo does with respect to diversity and inclusion. Once we met the team and got them into doing their duties, we were basically blown away."
The employees placed by VIP were quickly embraced by their co-workers. "Early on we knew we'd be able to get good customer service from them, but this is really a family organization and those team members are really part of our family. I've been very impressed with how our team has embraced them as part of our family," Taylor said. "We include them in everything we do in our facility and their ownership, their pride and what they do for our company is truly amazing."
Longevity of service has been beyond most expectations, he said. "The majority of the team members have been with us since the beginning, which is truly incredible, and they are more reliable than you can imagine. They come to work all the time, they don't miss [shifts]," said Taylor. "One instance with one of the team members was their father was in the emergency room and they were trying to coordinate transportation to come to work. I think that gives you some perspective on the dedication and ownership of these team members."
Even in an industry with typically low employee turnover, the workers placed by VIP are among the most reliable in the company, Taylor explained.
"They far exceed the industry [turnover rate]. Normally we'd see turnover rates in the 10-15-percent range and we've seen basically no turnover. Most of these team members have been with us the entire time. We're really proud of the team."
Recent diversity training from VIP was a "home run," Taylor reported. "Pepsico does a lot of diversity and inclusion training already and we had always leveraged those tools. But we realized we never really worked with our team to understand what it meant to be a person with a disability. We felt it would be a nice enhancement to the programs the company already had and it was basically a home run. It opened our eyes to the fact that there was maybe a little bit of uneasiness for our workforce to understand how to interact," Taylor explained. "Another benefit that came out of that was we had a couple team members who have persons with disabilities in their families, and it afforded an opportunity for them to talk to us about that, as well as potentially to reach out to VIP for some support."
Taylor offered some advice to other businesses thinking about hiring or contracting for VIP's developmentally disabled workers. "Don't be intimidated or worry about what it means to work with persons with disabilities," he said. "The VIP team has been truly amazing for us. Their ownership, passion and dedication is beyond anything that I've seen, certainly comparable with the rest of our Frito-Lay workforce. Once [managers] get past that first unknown and start to understand what the team's capable of doing for their operation, I think they'll be able to find a perfect fit."