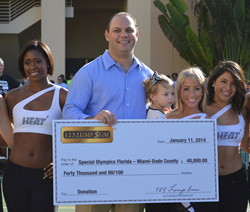 "We are truly honored to be able to help contribute to this amazing organization. Special Olympics represents the shared values of our organization, as well as the competitive spirit in each one us," said Michael Asseff, CEO of iSettlements
Miami, FL (PRWEB) January 31, 2014
On Saturday, January 11th 2014, specialty finance company iSettlements was recognized by Special Olympics Florida Miami-Dade County during their Area 11 Basketball Games for their charitable work. The event, hosted by University of Miami Wellness Center, was free and open to the public. Over 300 Special Olympics athletes with a range of athletic abilities competed in games including individual skills, team skills, 3 on 3, traditional basketball and unified basketball.
The opening ceremony included performances by the Miami Heat Dancers and The Miami Heat's Mascot Bernie. There was also a special check presentation by title sponsor iSettlements, a huge supporter of Special Olympics Florida.
"We are truly honored to be able to help contribute to this amazing organization. Special Olympics represents the shared values of our organization, as well as the competitive spirit in each one us," said Michael Asseff, CEO of iSettlements
Donations by sponsors like iSettlements ensure that the athletes with intellectual disabilities do not encounter financial boundaries to participate in year-round sports training and competition. Those present cheered on the athletes as they dribbled away and made game-winning shots. The highlight of the game was the participation of the first University of Miami Special Olympics Unified Basketball Team competing in Hurricanes uniforms.
"We are so fortunate to have the support of University of Miami and iSettlements as we work to improve the quality of competition we offer in Miami Dade County," states Linsey Harris Smith, Director of Special Olympics Florida – Miami-Dade County. "We are incredibly excited that the first University of Miami Unified Basketball Team will be able to compete on home courts and look forward to the growth of Special Olympics Unified Sports at UM and SO College in Miami," said a representative from the University of Miami.
Special Olympics College connects college students and individuals with intellectual disabilities through sport to build friendships and help lead the social justice movement of Special Olympics. Created by college students for college students, the network seeks the membership of campuses that seek the common goal of enhancing the lives of people with intellectual disabilities and building a more accepting world for all.
For more information about Special Olympics Florida Miami-Dade County or volunteer opportunities, please call at 305-406-9467 or visit http://www.somdc.org.
Sponsors of the event included: University of Miami, iSettlements, The Miami Heat, Krispy Kreme Donuts, The Salvation Army, OrthoNow Urgent Care and Hollywood Diagnostic Center.
About Special Olympics Florida, Miami-Dade County
The mission of Special Olympics is to provide year-round sports training and athletic competition in a variety of Olympic-type sports for children and adults with intellectual disabilities, giving them continued opportunities to develop physical fitness, demonstrate courage, experience joy and participate in a sharing of gifts, skills and friendship with their peers families, other Special Olympics athletes and the community. Visit http://www.somdc.org to learn more.
About iSettlements
Located in South FL, iSettlements is a leading originator of secondary structured settlement transactions. Applying institutional financing, underwriting and legal expertise for future cash flows from individuals whose life circumstances have changed. The company continues to help thousands receive cash for their payments to meet their immediate financial needs. For more information about iSettlements, please visit http://www.isettlements.com.