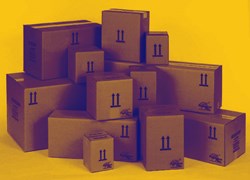 Los Angeles, California (PRWEB) January 31, 2014
24-7 Van Lines, an affordable, economical and environmentally-friendly moving service – providing local, state, cross country and international moving, packing and crating services for residential and commercial customers – is pleased to announce that they will soon be adding a "Cost-Reduction Packet" to their website. The forthcoming free PDF download will advise consumers on ways that they can reduce the cost of transportation when shipping household goods across the country. The intended purpose of the packet is to deliver tips that other shipping companies don't often tell their customers—in efforts to create more transparency and help consumers to save money, especially on long distance moving.
Moving scams can often run so rampant in this otherwise reputable industry, perpetrated by the sordid, soured few, that the Moving Authority offers plenty of advice to movers that is designed to empower them to avoid common moving scams. In their advice, they tell consumers to obtain both a non-binding estimate and a binding estimate and contract, and that they should report fraud if they are required to pay more than 100 percent of the binding estimate or more than 110 percent of the non-binding estimate following their move.
"Movers already have plenty of things they need to be worried about when moving, from logistics, to getting settled into their new home—all the way to insurance of their items and safe transport of them," said company spokesperson, Mark Tanning. "The last things we want them worrying about are hidden charges or added fees after the fact when they are using our service. In attempts to bring more transparency to this industry, we are soon going to be releasing our 'Cost-Reduction Packet' – which will be available as a free download in PDF format on our website in the near future. The packet will advise consumers on steps they can take to reduce their moving costs with us when shipping household goods."
In the packet, consumers will learn about ways that they can reduce movers rates by doing certain things in advance. One example is moving their heavy items into the front yard or down the stairs to avoid fees that movers will charge to move those items for them. Another bit of advice the packet will offer is on self-packing and arranging boxes to make it easier for movers, as well as using their own packing materials. The packet will be available on the company website in the near future as a free PDF download.
You can learn more about their services by visiting 24-7 Van Lines online.
Press Contact:
Mark Tanning
24-7 Van Lines
(877) 549-2077