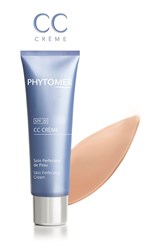 ...a hybrid product that combines makeup, skin care and solar protection.
Saint-Malo, France (PRWEB) January 31, 2014
Available in spas in the United States March 2014 and at http://www.lespausa.com.
A perfect solution for women on the go, CC CRÉME Skin Perfecting Cream SPF 20 is a hybrid product that combines makeup, skin care and solar protection. CC, meaning "color correction", is achieved in a fluid texture that melts upon application, giving optimum coverage in a shade that suits most skin tones. It is formulated with PHYTOMER's exclusive VMR EPS "Visible Marine Refiner" which acts as a super moisturizer as it stimulates the skin's own production of hyaluronic acid for a plumped appearance. Produced via biotechnology, VMR EPS stimulates cell turnover and cell regeneration, refining pores and producing a luminous complexion. Brown algae, Dictyopteris treats skin by acting as a complexion balancer, regulating the production of pigmentation for a brighter appearance. This multifunctional product can be used alone as a light foundation or acts as an excellent primer for those who prefer a heavier makeup application. This hyper-active formula has a feminine, floral scent and naturally enhances the skin because it is moisturizing, pore-refining, radiant-enhancing, unifying and protective - all at the same time.
CC CRÉME Skin Perfecting Cream SPF 20 - Suggested Retail Price, 50 ml, $51.00
Directions for use: Apply to the face and neck as a moisturizer and/or light foundation. Apply liberally 15 minutes before sun exposure, reapplying every two hours (for sunscreen use). Use a water resistant sunscreen if swimming or sweating.
Key ingredients:

VMR EPS "Visible Marine Refiner" - discovered by PHYTOMER advanced research, VMR is a natural marine sugar EPS (ExoPolySaccharide) reproduced in the laboratory via a technological feat. It acts at the laboratory via a technological feat. It acts at the heart of skin by increasing the synthesis of proteins responsible for the formation of the stratum coreneum for improved cell renewal. Skin texture is refined and pore size is diminished.
Dictyopteris (brown algae) - cultivation of this brown alga directly by our Research Laboratories enables full control of qualities over time while protecting survival and development in a natural environment. It produces a brightening action and regulates skin pigmentation for more translucency and radiance.
UVA/UVB filters, SPF 20 protection - these filters provide daily protection against free radicals generated by UV rays.
Phytomer at a glance:
With over 40 years as the leader in the marine skin care, Phytomer is now a pioneer in the field of marine biotechnology, the future of results-oriented cosmetics. This is the newest technology to create innovative, 100% natural skin care ingredients. Based in Saint-Malo, France and distributed in 70 countries worldwide, Phytomer has a reputation of leadership and expertise within the spa industry. With Phytomer meaning "plant of the sea," we utilize seawater, seaweed or seaside plants in every retail and professional product, combining science with the natural powers of the sea. We are one of the only spa brands with our own laboratory, allowing us to research and cultivate our own ingredients, develop unique cosmetic formulas, manufacture skin care products and create cutting-edge professional treatments to deliver remarkable results.