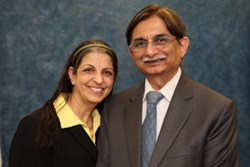 Chicago, IL (PRWEB) January 30, 2014
Spurred by a reinvigorated real estate market, RE/MAX has announced that another independent brokerage has joined its northern Illinois network. On Jan. 16, American Star Realty, 2250 E. Devon Ave., Des Plaines, Ill., became RE/MAX Renaissance.
"We view joining RE/MAX as an ideal way to capitalize on the recovery in the real estate market that was so evident in 2013 and can be expected to continue for the next several years," said Pradeep Shukla, who along with his wife, Harsha, are the broker/owners of the office.
Shukla focuses his efforts in commercial real estate, especially the retail and hospitality segments, while the other brokers at RE/MAX Renaissance generally concentrate on residential properties.
"Affiliating with RE/MAX makes us part of a brand that is respected in both the commercial and residential markets and provides the technical and strategic support we need to expand our business," he said. "It will give us the added visibility we need."
Pradeep and Harsha Shukla entered the real estate field in 2001, a few years after moving to the Chicago area and settling in Des Plaines. Both are accountants by profession but have also established their own residential and commercial brokerage business.
Pradeep Shukla's commitment to his real estate career has been demonstrated by his active involvement in the Mainstreet Organization of Realtors® (MORe) where he currently holds the post of president-elect. In 2015, he will serve as president of MORe, which is the largest regional Realtor organization in Illinois and the fourth largest in the United States.
"My involvement with MORe has given me an excellent opportunity to evaluate the major national real estate brands, and there was no question in my mind that RE/MAX was the right choice for me," he said. "I am looking forward to all 2014 holds in store."
RE/MAX Renaissance can be reached at 847-375-9293. Its website address is http://www.renaissance.illinoisproperty.com.
RE/MAX has been the leader in the northern Illinois real estate market since 1989. The RE/MAX Northern Illinois network, with headquarters in Elgin, Ill., consists of 2,000 sales associates and 100 individually owned and operated RE/MAX offices that provide a full range of residential and commercial brokerage services. Its http://www.illinoisproperty.com provides comprehensive information about the network and about residential and commercial property for sale in the region. The northern Illinois network is part of RE/MAX, LLC, a global real estate organization with 90,000+ sales associates in 90+ nations.