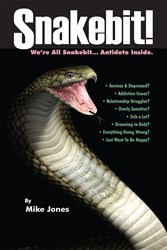 I even went into therapy, but I didn't get better until I learned how to become a different person. That is what made all the difference.
(PRWEB) February 05, 2014
"I had a terribly unwell fantasy life that began in my teen years and dragged me down," Jones says. "I read self-help books, went into therapy, and prayed. But I didn't get well until I learned how to become a different person, and that has made all the difference."
Jones believes that human nature is incurably ill. "We all have corrupted hard drives," he says, citing psychiatrist M. Scott Peck that "most of us are mentally ill, just to different degrees."
He underscores the value of acquiring a new identity by telling the story of the old Jewish prophet, Samuel, telling Saul, ancient Israel's first king, "The Holy Spirit will come upon you in power…and you will be changed into a different person."—I Samuel 10:6 "That's the central thesis of Snakebit," he says. "Becoming a different person. That was my aha moment, and it transformed my life."
Using the metaphor of a caterpillar entering a chrysalis, dying, and re-emerging as a butterfly, Jones offers a spiritual paradigm calculated to help anyone metamorphose into a totally different person who can negotiate life's toughest challenges successfully and still be OK." But he notes there is a kicker: "You have to process your protocol daily or you'll regress back to your old caterpillar life."
Jones says his goal for Snakebit: We're all snakebit is to help readers handle their toughest life issues successfully without doing something horrific or stupid during a time of frustration or desperation. He says he means irrational or foolish behavior, citing a time when he contemplated doing harm to an attorney and his client who were threatening his fledgling dental business with a nuisance lawsuit.
The author also provides helps for such topics as How to Forgive a Dirty, Rotten Scumbag; Cope with a Crisis; deal with Anxiety Disorder and Panic Attacks; and find Healing for Schizophrenia. And in light of Valentine's Day, he offers a PDF of an excellent listing of Relationship Tips.
Snakebit is available from Amazon.com for $12.95 or from createspace.com for $7.95 with this code: TWS5WUDK. Also on Kindle for $4.95. Author contact: mjonespdx1(at)gmail(dot)com for interviews or speaking appointments.