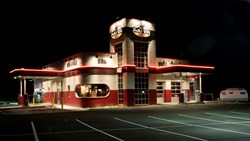 Springfield, NJ (PRWEB) February 01, 2014
Gruskin Group™, a leading design firm, has been awarded a Silver Design and Development Award by the International Council of Shopping Centers (ICSC) for its design of the Double Wide Grill, located in Mars, PA. ICSC's U.S. Design and Development Awards recognize outstanding projects for excellence in the creation of new retail projects within the Continental U.S. Gruskin Group designed the 6,700-square-foot restaurant as a vintage gas station-turned-restaurant that offers a unique dining experience for history buffs and "open-road" enthusiasts.
Specifically, Gruskin Group's design for the Double Wide Grill won the Silver Award in the Retail Store Category, which honors and recognizes how professional store design contributes to the success of the overall retail industry.
According to Kenneth Gruskin, AIA, principal of Gruskin Group, which designed both the exterior and interior of the new restaurant, "We appreciate being recognized by ICSC for a project like this since a lot of passion on both our part and the part of our clients went into its creation. Double Wide Grill was designed to capture the country's newfound fascination with 'the open road' and adventure travel in the family car, trailer in tow, typical of the 1950s. The design evokes a nostalgic feel that connects to the public's love for 'motorabilia', and has captured the imaginations of its customers."
Double Wide Grill's design features the flowing "Airstream" curves of a 1950's filling station complete with gas pumps and trailers, typical of that era. The theme is based on the imagined backstory that what began as a gas stop for travelers evolved into a restaurant as its operators began to serve food along with their gas sales. To further enhance the theme, the interior features a "worn-in" look, as well as old road signs, gas station memorabilia, old tires hung from the wall, lights made from car parts, and trucks on lifts. Diners eat in old trailers that pop out of the back of the restaurant overlooking a ravine.
The gas station ambience is enhanced through the incorporation of floors made from stained concrete, interior walls of exposed brick, lighting fixtures fashioned out of old gasoline cans and car parts by local artisans, bar walls decorated with old license plates, roll-up garage doors that open onto eating terraces, awnings that cover the terraces constructed from rustic wood and corrugated metal, and a two-toned painted brick finish exterior accented with vertical metal siding. Gruskin Group also designed the restaurant logo and signage that features a gas pump nozzle.
The ICSC Award is just the latest honor that Gruskin Group's design for the Double Wide Grill has received. The firm earned an honorable mention in the Fast Food/Casual Dining Category from Chain Store Age's "Retail Store of the Year" competition in March 2013. The project was also featured in an ad for the Association for Retail Environments (ARE) (DDi, August 2013), as well as in editorial coverage in ARE's Retail Environments (May/June 2013) and in ARE's Trend Bulletin (January 2013). The project has also been selected to appear in an upcoming book on architectural branding by Martin Pegler.
Gruskin noted, "While design cannot replace the lure of good food and service, it can create an environment that attracts customers to a location or specific brand. The design's 'look and feel' and authenticity to the restaurant's brand promise, will set patrons' dining and value expectations, while providing a memorable environment that can help differentiate one restaurant from another. This is ultimately the goal of good restaurant design—to enhance the overall food experience and create a multi-dimensional experience that builds a positive brand impression, giving diners an incentive to return again and again."
About Gruskin Group™
Gruskin Group™ is an integrated design firm that builds unified brand experiences through architecture, brand development, visual communications, web/interactive, industrial design, interior design, strategic consulting, and sustainable design.
In 2013, Gruskin Group was named among the New York Region's top 100 design firms by ENR. The firm has also been recognized and ranked among the top firms by Architectural Record, VMSD , NJBiz, DDi, and Commercial Construction Magazine, and was named to the prestigious Inc. 5000. Gruskin Group and its professionals' award-winning work has been recognized by AIA, the Retail Design Institute, Chain Store Age, ICSC, ASID, New York Ad Club, New Jersey Ad Club, Graphis, and the Association of Graphic Communications. For additional information, visit http://www.gruskingroup.com.
###