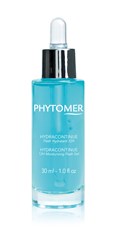 ..used alone, or customized under a cream, blended with a cream or blended with foundation.
Saint-Malo, France (PRWEB) January 31, 2014
Available in spas in the United States and at http://www.lespausa.com.
Phytomer introduces a new solution to combat dry and dehydrated skin with HYDRACONTINUE 12H Moisturizing Flash Gel. Just one drop of this multi-use gel provides instant moisture to skin for up to 12 hours. This vibrant blue gel has a soft, velvety feel and leaves a fresh, clean scent. A completely versatile product, it can be used alone, or customized under a cream, blended with a cream or blended with foundation. Formulated with Weaving Algae and Hydra-8 Complex, skin is strengthened to be able to capture and retain water. HYDRACONTINUE 12H Moisturizing Flash Gel can be used any time of the day, providing a practical moisture boost to any skin care regime.
HYDRACONTINUE 12H Moisturizing Flash Gel - 30 ml, suggested retail price $69.00
Directions for use: lather one drop in the palm of hands, apply to skin by massaging with small circular movements.
Key ingredients:

Weaving Algae - Laminaria brown algae, notably found in the waters of Brittany, France. Stimulates the production of weaving proteins in the skin, encourages the production of structural collagen and stimulates the production of "sponge" macromolecules. This process encourages the synthesis of hyaluronic acid, increasing the natural water-retaining capacity of the skin. Phytomer has developed an algae farming program on cords in order to ensure quality and survival of this natural resource.
Hydra-8 Complex - super-composed of eight ultra-moisturizing molecules that reinforce the ability of the epidermis to capture and retain water. Forms a protective film on the skin's surface.
Impressive results:
Immediate and lasting moisturizing effectiveness

After 15 minutes: +105%* moisturization
After 12 hours: +43%* moisturization
*Effectiveness test with measurement of moisturization levels using a Corneometer® on 10 volunteers after a single application.
Phytomer at a glance:
With over 40 years as the leader in the marine skin care, Phytomer is now a pioneer in the field of marine biotechnology, the future of results-oriented cosmetics. This is the newest technology to create innovative, 100% natural skin care ingredients. Based in Saint-Malo, France and distributed in 70 countries worldwide, Phytomer has a reputation of leadership and excellence within the spa industry. With Phytomer meaning "plant of the sea," we utilize seawater, seaweed or seaside plants in every retail and professional product, combining science with the natural powers of the sea. We are one of the only spa brands with our own laboratory, allowing us to research and cultivate our own ingredients, develop unique cosmetic formulas, manufacture skin care products and create cutting-edge professional treatments to deliver remarkable results.