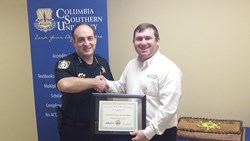 Orange Beach, Alabama (PRWEB) January 31, 2014
Columbia Southern University (CSU) recently launched its Learning Partner of the Month program and chose the Escambia County (Fla.) Sheriff's Office as its first recipient of this special award.
CSU, an online university based in Orange Beach, Ala., forms partnerships with businesses and government agencies to offer special tuition discounts and scholarships. The Sheriff's Department, which has partnered with CSU since 2009, was presented with a plaque and refreshments to celebrate the honor.
"The Escambia County Sheriff's Office is proud to partner with Columbia Southern University to provide opportunities for deputies to continue their education and professional development," said Sheriff David Morgan.
"Columbia Southern has helped us tremendously. It has allowed a segment of our deputies who really couldn't attend regular, scheduled classes to get a degree," added Chief Deputy Eric Haines. "CSU helps them through our promotion process as they are able to take their promotion test once they have their degrees and the salary incentive program in Florida recognizes the degrees with monthly stipends."
More than 60 Escambia deputies are taking advantage of the partnership with CSU while saving 10 percent on their tuition for an online degree.
"We are really proud of our relationship with the Escambia County Sheriff's Office. A large segment of your student body are first-responders and we are happy those in law enforcement benefit from our flexible online programs," said Duane Brown, supervisor of CSU's Corporate Outreach, which is composed of education representatives who reach out to businesses and government entities.
Established in 1993, CSU helps individuals with hectic work and family commitments pursue their educational dreams. CSU offers online associate, bachelor's, master's and doctoral degree programs in various fields including criminal justice, fire administration, occupational safety and health and business administration.
To learn more about CSU learning partnerships, please call 888-785-3006 or visit http://www.ColumbiaSouthern.edu/Partners.