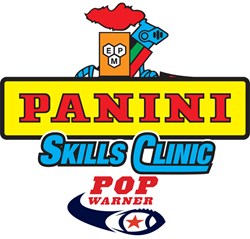 Irving, Texas (PRWEB) January 31, 2014
Panini America, the world's largest sports and entertainment collectibles company and the exclusive trading card and sticker partner of Pop Warner, will treat more than 150 New York-area Pop Warner athletes to a once-in-a-lifetime experience when it brings in New York Giants Pro Bowler Jason Pierre-Paul, Atlanta Falcons wide receiver Harry Douglas, New York Jets wide receiver Jeremy Kerley, and 2013 NFL rookies EJ Manuel and Denard Robinson to offer insight and instruction at the 7th Annual Panini Pop Warner Skills Clinic.
The special event will take place Friday evening at Chelsea Piers and continues Panini America's tradition of delivering a special Super Bowl experience to Pop Warner athletes in the host city that might not otherwise have the opportunity. During the two-hour clinic, Pierre-Paul, Manuel, Robinson and Douglas will lead athletes through a series of informative football drills and talk to them about their own experiences. After the clinic, the players will sign autographs for all participants.
"The Panini Pop Warner Skills Clinic is a special event that provides local Pop Warner football programs the opportunity to be a part of the Super Bowl experience in a compelling way," said Jason Howarth, Panini America Vice President of Marketing. "We're extremely proud of how this event has grown and its ability to give Pop Warner participants the opportunity to engage and interact with NFL Players."
In years past, the Panini Pop Warner Skills Clinic has featured such guest coaches as Geno Smith, Doug Martin, DeAngelo Williams, Andy Dalton, Von Miller, Brandon Lloyd, Kevin Kolb, Vinny Testaverde, Case Keenum and Tim Tebow.
Panini America is the only company in the world that manufactures licensed trading cards and stickers for the NBA, NFL, NFL PLAYERS, NHL, NHLPA, MLBPA and FIFA World Cup. The company also has exclusive relationships with USA Baseball, USA Basketball and the U.S. Soccer Women's National Team, Pop Warner, the Naismith Memorial Basketball Hall of Fame and The Pro Football Hall of Fame. Panini also owns exclusive entertainment licenses with One Direction, Disney, Hello Kitty and Michael Jackson, and more than 600 global licenses with other sports and entertainment properties.
ABOUT PANINI:
The Panini Group, established more than 50 years ago in Modena, Italy, has subsidiaries throughout Europe, Latin America and the United States. Panini is the world leader in officially licensed collectibles and is the most significant publisher of collectibles in the U.S., with official licenses for MLBPA, NBA, NFL, NHL, FIFA, USA Baseball, Disney, Nickelodeon, Warner Bros. and other key properties from many other licensors. Panini has distribution channels in more than 100 countries and employs a staff of over 800. For more information visit us at http://www.paniniamerica.net, http://www.paninigroup.com or http://www.paniniamerica.wordpress.com. You can also follow Panini America on social media platforms Facebook, Twitter and on YouTube.