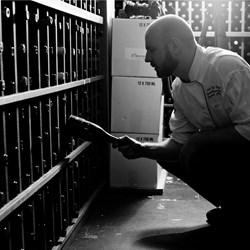 'People talk about buying food locally,' Chef Christopher says. 'For me, it's literally walking down the street or driving half a mile.'
Dayton, OR (PRWEB) January 31, 2014
Nestled in the heart of the Willamette Valley and home to a collection of unique and vibrant communities, Yamhill County was founded on the basis of rich soils, abundant natural resources, and a strong pioneer spirit. This spirit endures today, with Yamhill County enjoying thriving agricultural and wine industries, as well as vibrant and growing manufacturing, a strong service sector, and an active citizenry.
GROW Yamhill County was launched in 2012 with the goal of creating a strategic plan for economic development in Yamhill County. To inspire entrepreneurs that may be thinking of starting a new business in Yamhill County and engage existing business owners who may be looking to expand, GROW Yamhill County has selected four local businesses to serve as Success Stories and examples of Yamhill County's collaborative culture, laid back lifestyle and a highly skilled and productive workforce.
The Joel Palmer House, one of the featured businesses, was selected as a great example of how Yamhill County offers opportunities for prosperity as well as a very high quality of life. Three short videos on GROW's website illustrate how the Czarnecki family has found success in Yamhill County.
The Czarnecki family moved from Pennsylvania to Oregon to open The Joel Palmer House in 1997. "We realized that we really were in the Promised Land," says Chef Christopher Czarnecki, fourth-generation owner and Executive Chef of the Joel Palmer House. "People talk about buying food locally," he says. "For me, it's literally walking down the street or driving half a mile."
While expanding and innovating at The Joel Palmer House, Chef Christopher is also preparing to open a second restaurant in Dayton. "It's going to be called The Barlow Room, after Sam Barlow, who led a wagon train on the Oregon Trail. We're keeping the historical feel." Chef Christopher may have a lot on his plate, but he grew up knowing that "when you run a restaurant, everything is work, everything is play." Being in Yamhill County just makes it harder for him to distinguish between the two.
About The Joel Palmer House Restaurant
The Joel Palmer House's innovative and exciting menu features choice local produce, wild mushrooms and Oregon truffles. Chef Christopher Czarnecki and family strive to incorporate seasonal ingredients and use many locally grown vegetables, including many from their own on-site garden. Chef Christopher Czarnecki has created a tantalizing, creative menu that marries perfectly with the world renowned Pinot Noir of Oregon's Willamette Valley. Of note, the Joel Palmer House ranks as one of Oregon's finest historic homes and is on the National Register of Historic Places and the Oregon Historic Register. Built in 1857, the house is Dayton's oldest standing structure. When weather permits, guests can enjoy their dinner on our outdoor patio, soaking in the last rays of sunshine in the heart of Oregon Wine Country.
About GROW Yamhill County
GROW's mission is to direct and prioritize action and investment to promote business growth, job creation & retention, and enhanced well-being for the residents and communities of Yamhill County, Oregon.
GROW was launched in 2012 with the goal of creating a strategic plan for economic development in Yamhill County. Home to many successful businesses, a thriving entrepreneurial spirit, and robust sense of community, Yamhill County has enjoyed strong, organic economic development at the city and local levels, but has been without a strategic county-wide approach for several decades.
GROW Yamhill County brought together 65 local leaders from across the county to discuss the future of this economically fertile corner of Oregon, blending dual interests in supporting existing efforts and expanding them with an eye toward future business growth, prosperity, and local resiliency. Uniting various parties and sectors is a deep concern for the well-being of local residents, businesses, and communities and a collaborative spirit that recognizes that we are stronger together.