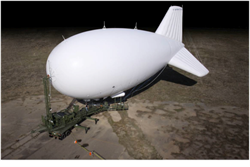 This aerostat system can deliver extensive ISR capabilities associated with larger systems, while providing the flexibility and reduced logistical footprint of smaller aerostats.
Los Angeles, CA (PRWEB) January 31, 2014
Aeroscraft Corporation (Aeros), a leading FAA-certified lighter-than-air (LTA) manufacturer and technology innovator, today announced the availability of a new mid-size aerostat designed to address evolving infrastructure security challenges, the 3200e ISR surveillance system.
Key infrastructure security concerns have increased over recent years as subversive and terrorist groups increasingly exploit infrastructure as a means for disrupting the stability and commerce of a country, or region. Governments and private security firms are turning to Aeros for solutions, and looking for an integrated platform that can help stem the disruption, exploitation or destruction of vulnerable assets. Aeros has responded with its cost-effective and robust 3200e system.
The Aeros 3200e ISR surveillance system is an exciting aerial asset supporting new, non-military applications that offers additional security reassurance for key industrial infrastructure installations, whether commercial or public facilities. The installation of multi-mode radar allows the aerostat system to persistently monitor ground, air and marine targets. No other single airborne system offers the performance and persistence of the Aeros 3200e. Once targets are detected, the EO/IR stabilized camera system will automatically find and track the target, giving the operator a positive identification of the intruders. The surveillance is backed up with recorded video that enables the perpetrators to be prosecuted with hard evidence.
The 3200e is a mid-size aerostat system built for operation in the harshest environments and climates, whether supporting missions in desert or maritime theaters. The 3200e is an integrated system comprising LTA platform, multi-modal radar and EO/IR camera alongside a ground control system with fiber optic connectivity. The aerostat is comprised of robust, strong and lightweight textiles, providing superior helium retention for extended time on station.
The 3200e provides unobstructed 360-degree field of view extending 150 kilometers, for a uniquely cost effective and persistent situational awareness system. The 3200e features reconfigurable payload mounting and quick disconnect capability to adjust mission payloads. The ground control system is self-sustained and fully-integrated via a fiber optic network, facilitating air-to-air or maritime detection and tracking via radar, and supporting a broad set of missions ranging from radio and signal intercept/retransmission to acoustical gunfire detection.
"The 3200e aerostat system can deliver extensive ISR capabilities associated with larger systems, while providing the flexibility and reduced logistical footprint of smaller aerostats," explains Fred Edworthy, Vice President of Business development at Aeros. "It combines the need for effective coverage and persistent observation with payload flexibility and reduced crew requirements, enabling success for a diverse set of mission requirements."
Early warning of unusual activity or area intrusion can be critical to preventing, mitigating or responding to events such as the 2013 hostage crisis in Algeria, pipeline destruction in Nigeria or Ecopetrol's many oil pipeline bombings in Colombia. As such, the system has been designed for installation at numerous high value or high threat targets like nuclear power stations, oil and gas production and refining installations, research laboratories and to bolster port and costal security, as examples.
Reaching beyond traditional military applications, the system will support private security firms contracted to secure major infrastructure installations throughout the world by strengthening their real time communication and response capabilities. With this in mind, remote winch operability permits single operator control and automated mast release for speedy and simplified launch and recovery. The automated digital flight control system is housed within, and connected to the 3200e's Relocate-able Integrated Mooring System (R.I.M.S).
Aeros' aerostat division designs and manufactures tactical airborne platforms based on the parameters for specific mission requirements such as altitude, wind speed and operating temperatures. For more information about Aeros' aerostat solutions, please visit http://www.aeroscraft.com/aerostat or email Sr. Military Programs Manager Mario Pantuso at mario.pantuso@aeroscraft.com and Fred Edworthy at fred.edworthy(at)aeroscraft(dot)com
About Aeros: Founded 27 years ago in the U.S., the Aeroscraft Corporation (Aeros) has grown from a small aerostat production manufacturer to a leading FAA-certified airship producer and R&D firm for the aerospace industry. Aeros has achieved multiple FAA airship type certificates and operates with an FAA Production Certificate, while featuring a product line that includes advanced airships and tethered aerostats utilized in commercial and government applications throughout the world. Learn more at http://www.aeroscraft.com.
Aeros has recently announced a private offering for investors to support aeroscraft fleet development capital requirements. This can offer investors a rewarding opportunity to participate in the aeroscraft's development and growth. Execution of this plan is not without risk, and the offering can only be made to accredited investors at this time. For more info about Aeros' private offering, please visit http://www.aeroscraft.com/investors.