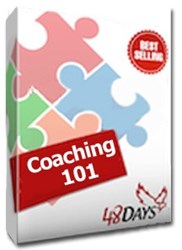 PeopleKeys knows behavioral analysis. 48 Days knows life coaching. The partnership is a natural fit - Sandy Kulkin
Boardman, Ohio (PRWEB) January 31, 2014
The field of life coaching has become big business in the past five years, and continues to grow at a rapid rate. In an economy where many professionals find themselves struggling to find success, life coaches have experienced amazing growth and unprecedented demand. There are over 15,000 practicing life coaches in North America alone. Of those coaches, Forbes magazine estimates in their article "Surprising Six-Figure Jobs" that at least 20% of them make over $100,000 a year.
In light of the rapid growth in the field, many companies have jumped into the business of life coaching and life coach training. With the goal of approaching coaching from a new perspective, PeopleKeys, a company that specializes in behavioral analysis, recently partnered with 48 Days, a life coaching business founded by 30-year veteran in the field Dan Miller. PeopleKeys and 48 Days believe the partnership has allowed the two companies to create a new approach to life coaching that sets them apart from the rest—a process they call behavioral life coaching.
Behavioral life coaching has a theoretical foundation in DISC, a method of exploring the connection between personality type and behavior that is similar to Myers-Briggs but is presented as a more user-friendly and intuitive testing model. Through DISC and other behavioral testing tools, PeopleKeys and 48 Days believe life coaches can use personality tests to more deeply understand their clients' fears, motivations, talents, and challenges.
For PeopleKeys, the major benefit of the partnership with 48 Days has been the addition of a new course module to their Certified Behavioral Life Coach training program. The course module, called Coaching 101, was developed by Dan Miller for 48 Days and is designed to teach potential life coaches how to incorporate behavioral analysis into their sessions with clients. The Certified Behavioral Life Coach training program from PeopleKeys packages Coaching 101 along with two other courses that focus on understanding human behavior: Introduction to Behavioral Analysis and Advanced Behavioral Analysis. The result is a comprehensive life coach training course that prepares coaches for interactions with their clients, and certifies them as an expert in both DISC and life coaching.
For 48 Days, the partnership with PeopleKeys has allowed them access to behavioral analysis tools that they have adopted into all of their their coaching and training sessions. The personality profiling tools developed by PeopleKeys have become 48 Days' best-selling product, and are a critical components of the work 48 Days accomplishes with their clients. Though using DISC tests and other behavioral analysis tools supplied by PeopleKeys and customized by their team, 48 Days is able to offer insights into personality that help their clients understand their natural aptitudes. It is that knowledge that then leads clients to make positive changes in their lives: to find balance, discover a more fulfilling career path, tap into their hidden talents, and more.
In addition to the coaching services they offer, 48 Days also provides one of the most comprehensive life coach training programs in the country. 48 Days has incorporated PeopleKeys behavioral assessment products as a critical part of their life coach training. From live Coaching with Excellence events to Coaching Mastery Programs and their 14k-member-strong online 48 Days community, 48 Days has introduced DISC to thousands of new and established life coaches.
The partnership between PeopleKeys and 48 Days was born from the companies' shared mission: to help clients tap into their potential and find strategies for personal and professional growth. In their work together, both companies have been able to carve out a unique identity and brand for themselves in life coaching. To celebrate this, PeopleKeys named 48 Days Partner of the Month for January as a means of recognizing the important work 48 Days has done in expanding PeopleKeys' Certified Behavioral Life Coach training program, as well as the role they have played introducing PeopleKeys' DISC tests and behavioral analysis tools to new audiences.
"PeopleKeys knows behavioral analysis. 48 Days knows life coaching. The partnership is a natural fit," said PeopleKeys founder Sandy Kulkin. "We've been able to do something really unique—Create a symbiotic relationship that allows us to use our shared talents to frame coaching from our own distinct point of view."
Details and enrollment information for individuals interested in Coaching 101 can be found on the PeopleKeys website. For more information on 48 Days and Dan Miller's life coaching sessions and training programs, visit 48days.com.
About PeopleKeys
PeopleKeys is an internationally-recognized leader in the field of behavioral analysis. They have developed a wide variety of testing tools based on DISC, a method of personality assessment that has been in use around the world for over 50 years. DISC is a simple and accurate way to measure the ways in which a person's personality can determine their behavior and future success.