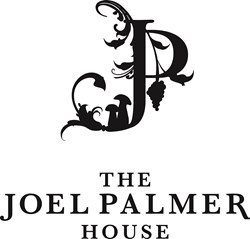 Oregon Spring may be rainy – but the mushrooms love it!
Dayton, Oregon (PRWEB) January 31, 2014
The Joel Palmer House and Executive Chef Christopher Czarnecki are giving guests a new reason to brave the gray and rainy weather in Oregon's Willamette Valley wine country: The Mushroom Sunshine Menu.
This special, seasonal "Mushroom Sunshine Menu" offers guests a selection of Chef Christopher's new creations and includes 3 courses for $35 per person. The Mushroom Sunshine Menu is available Tuesday, Wednesday and Thursday nights through the end of April 2014. Wine and service are not included in the fixed price.
"Since my great-grandfather opened his restaurant in 1916, our cooking has revolved around wild mushrooms," says Chef Czarnecki. "Oregon Spring may be rainy – but the mushrooms love it!"
"Our Mushroom Sunshine Menu is a great opportunity to share in the celebration of spring with friends and family, and a new way for locals to experience our cuisine on a weeknight," added Chef Czarnecki. "Each course has several options including both family classics and new innovations."
About The Joel Palmer House
The Joel Palmer House's innovative and exciting menu features choice local produce, wild mushrooms and Oregon truffles. Chef Christopher Czarnecki and family strive to incorporate seasonal ingredients and use many locally grown vegetables, including many from their own on-site garden. Chef Christopher Czarnecki has created a tantalizing, creative menu that marries perfectly with the world renowned Pinot Noir of Oregon's Willamette Valley. Of note, the Joel Palmer House ranks as one of Oregon's finest historic homes and is on the National Register of Historic Places and the Oregon Historic Register. Built in 1857, the house is Dayton's oldest standing structure. When weather permits, guests can enjoy their dinner on our outdoor patio, soaking in the last rays of sunshine in the heart of Oregon Wine Country.