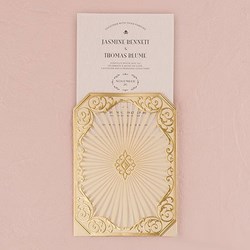 Dunmore, AB (PRWEB) January 31, 2014
Earning their reputation as a leader in the wedding industry with inspiring and influential designs over the 30 years they've been in business, Weddingstar continues to wow with their ever-expanding releases. With their expertise to "Put the Wow in Weddings" firmly established, Weddingstar has never settled for less than the best. Constantly producing creative designs and inspirations for the most discerning of partners, Weddingstar is changing the market on what a wedding stationer should be. With today's modern weddings being highly focused on personalization and distinct flair, Weddingstar has become an imaginative creator of quality personalized stationery for every budget. With everything from a couples RSVP's to their thank you cards available in one place with a range of colors and designs, Weddingstar has risen to meet the needs of today's diverse couples. And, with every wedding planning checklist holding an invitations category, Weddingstar has made sure that every customer can find a new, exciting and personal way to ask guests to be a part of their big day.
A part of their new line of products released earlier this month, Weddingstar made sure to rise to the needs of their demographic with a plethora of newly designed wedding invitations and stationery collections. With themes and colors for every type of wedding imaginable, they've made it ever easier for every couple to find their perfect stationery match. Not only this, but with each invitation being a part of a wider collection of mixable essentials, couples can choose their invitations as a starting point to their entire stationery planning. Brides and grooms can not only rejoice because of the ease of finding an expertly curated collection, but with their newly re-vamped website, Weddingstar has also ensured that their couple's navigation goes as simply as possible. With a single click of the button, not only can customer's view an entire stationery collection, but they can also shop by theme or color. Plus, with an ever growing list of personalization parameters, Weddingstar continues to push the envelope of what a wedding stationer should be providing.
Of particular interest in their newly released wedding collections and invitations is their Wanderlust Invitation Map. Designed as a classic roadmap, it bears an inscription of adventure – making it a perfect fit for the travel loving couple as well as a show-stopper for guests. For couples with a classic taste, Weddingstar unveiled their Contemporary Vintage invitation, with elegant designs and traditional flair. Finally, for those with luxurious leaning, Weddingstar presented their Black and Gold Opulence Invitation that hails designs from the Art Deco era and has a Jazz Age glam appeal.
Weddingstar Inc. is one of the world's leading designers, manufactures and retailers of wedding decorations and accessories. Dedicated to providing quality service to brides around the globe, Weddingstar ships to over 100 countries worldwide with distribution points in Europe, North America, Argentina, Australia and Russia. Featuring an ever-expanding selection of bridal accessories with over 3,000 different product offerings, Weddingstar is a one stop destination for every wedding need. With 30 years of experience in the wedding industry and having received numerous business awards, Weddingstar has earned a reputation as the source for 'Putting the Wow into Weddings.' For more information please visit http://www.weddingstar.com.