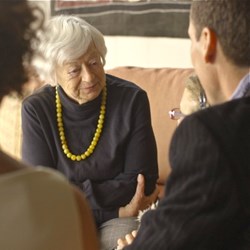 Sausalito, CA (PRWEB) January 31, 2014
A powerful and compelling feature documentary, #standwithme, tells the story of how eight-year old Vivienne Harr's lemonade stand inspired a new family business: Make a Stand Lemon-aid, which donates 5% of sales to six groups working to end child slavery, including Nepal Youth Foundation (NYF).
The film also educates viewers about child slavery through the work of acclaimed photographer, Lisa Kristine, and two organizations with a global reach: Free the Slaves and Fair Trade USA.
#standwithme opens in February 2014 with a 30-city tour of North America, and there's no doubt that this powerful film will earn broader distribution and reach a worldwide audience.
NYF's work to end child slavery
--------------------------------------------------
Midway through #standwithme is poignant scene showing a meeting between Vivienne and Olga Murray, NYF's Founder and Honorary President. Nepal Youth Foundation is one of six organizations selected to receive a portion of Make a Stand's gross profits. It's heartwarming to see 9-year old Vivienne and 88-year old Olga talk about their shared passion for ending child slavery.
A simple call to action: Do something
--------------------------------------------------
"Central to the theme of our movie is the moment each of our main characters learned that slavery still exists in the world, and the action they took once they knew," explains Co-Director Patrick Moreau of Still Motion, the innovative production company that created #standwithme. "Until we met Vivienne, we didn't know the degree to which slavery exists in our modern world — but the moment we were made aware, we had to do something. This movie is our something."
The Nepal Youth Foundation is honored to be included in the film, and we congratulate Still Motion on their remarkable accomplishment.
About Nepal Youth Foundation
--------------------------------------------------
The mission of the Nepal Youth Foundation is to transform the lives of impoverished Nepali children by providing them with what should be every child's birthright — education, housing medical care, and loving support.
Founded in 1990 by Olga Murray, the foundation's 88-year-old honorary president, NYF has served more than 100,000 destitute Nepali children and their families.