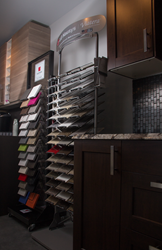 This new showroom is a huge development for us, and we can't wait to expand and continue to show great products.
Norman, OK (PRWEB) January 31, 2014
Rivers' Edge Countertops debuted its new, top-of-the-line showroom this January.
The space sports beautifully finished countertops and displays to offer the customer a fully customizable experience, according to owner, Jeremiah Rivers.
Taking just over a month to complete, the showroom boasts color-categorized sections where customers may match their countertops to a chosen color scheme. Rivers said he wanted a space customers could visit that would highlight the qualities of professionalism and customizability.
"The customer is able to mix and match cabinet and countertop colors to see what looks best in their home or office," Rivers said. "We wanted the showroom to be a place of creativity and customization, where customers could express their own sense of style."
Rivers said he wanted to make the space a distributor-quality showroom with a limited amount of space.
"I wanted to be able to show off the variety of products we offer as well as making it completely functional—a one-stop shop, if you will," Rivers said.
Two of the new products, Silestone's new "Suede" and "Nebula Code" series, promote luxury—a development Rivers couldn't be more excited about.
"[Silestone] is taking over the market," Rivers said. "I couldn't be more excited for customers to see it, touch it and imagine it in their homes. This new showroom is a huge development for us, and we can't wait to expand and continue to show great products."
Rivers' Edge Countertops, headquartered in Newcastle, Oklahoma, is the state's leader in countertop installation. Founded in 2008 by Jeremiah Rivers, Rivers' Edge offers granite, marble and quartz fabrication and installation. For more information, please contact Jeremiah Rivers at (405) 387-2930. Find Rivers' Edge on Facebook.
###