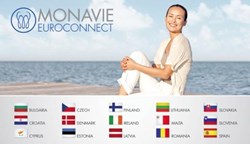 Salt Lake City, Utah (PRWEB) January 31, 2014
MonaVie announces the launch of its EuroConnect program, which brings the MonaVie products and opportunity to an additional 15 countries in Europe, for a total of 25 European countries.
The new EuroConnect markets for MonaVie include: Bulgaria, Croatia, Cyprus, Czech, Denmark, Estonia, Finland, Ireland, Latvia, Lithuania, Malta, Romania, Slovakia, Slovenia and Spain. MonaVie distributors are now able to conduct business in these promising markets.
A new website was launched to support distributors' efforts in Europe. The site offers one dedicated resource for distributors in Europe. While content regarding product, company and opportunity are in English, each country will have a dedicated news page where unique content will be loaded as it becomes available.
Attend an Upcoming EuroConnect Event
One of the best ways to learn about the expansion of MonaVie in Europe, as well as the business opportunity available, is to attend one of our upcoming EuroConnect events. Click here for more information on upcoming events.
About MonaVie
Since 2005, MonaVie has developed premium products dedicated to promoting health and wellness worldwide. MonaVie addresses four key areas necessary for optimal health—Nutrition, Weight, Energy, and Stress—with products made from the best and rarest ingredients on Earth. The products, in conjunction with MonaVie VIEW Antioxidant Scanner, empower people to live healthier, more meaningful lives. That greater meaning is revealed through our heartfelt commitment to doing good in the world and by helping children and families in need through the MORE Project. Start living A More Meaningful Life today and discover the true, life-changing power of MonaVie. Learn more at http://www.monavie.com, or connect with us on social media.