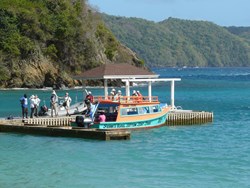 I've been all over the world, and I've seen a lot of wildlife, but seeing the leatherback turtles – they're HUGE! – now, that was significant.
Miami, FL (PRWEB) January 31, 2014
Each spring and summer thousands of Leatherback Turtles visit their ancestral nesting grounds on the beaches of Trinidad, laying enough eggs to produce hundreds of thousands of offspring. From April through July, tours to the world-famous Asa Wright Nature Centre offer the opportunity to witness this amazing spectacle, as well as to see all the trogons, hummingbirds, honeycreepers and hawk-eagles the Centre is famous for. Tour participants go to Matura beach and after a sunset rum punch and picnic dinner, stroll this protected 12-mile stretch of undeveloped beach with local guides, waiting for the giant Leatherback females to drag themselves onto the sand to lay their eggs, which typically take 60 to 70 days to reach gestation. If conditions are right, later in the season, they might have to watch where they tread: Nests can erupt at spectators' feet and they could see hundreds of hatchlings scrambling across the sand to the sea.
Caligo Ventures has been offering tours to Trinidad and Tobago for thirty years. As a result, thousands of visitors have experienced the famous verandah of the Asa Wright Nature Centre teeming with birds, and visitors usually see more than 40 species of birds before breakfast. Only visitors at certain times of year are treated to an awe-inspiring sight: a chance to see one of the world's largest and most productive Leatherback Turtle nesting sites.
"Regular visitation by nature-loving groups helps to fund non-profit Nature Seekers, who have assiduously worked for years to protect these precious nesting sites," explains Peg Abbott, Naturalist Journeys' owner. The Asa Wright Nature Centre works in partnership with Nature Seekers to provide interpretation and viewing of the huge turtles during their nesting season. The Leatherback is the largest turtle, and the fourth-largest reptile, and seeing them right on the beach can be an inspiring experience. Dr. Howard Topoff, a past tour participant, says "I've been all over the world, and I've seen a lot of wildlife, but seeing the leatherback turtles – they're HUGE! – now, that was significant."
More about Caligo's Trinidad and Tobago Tours
Caligo Ventures' Trinidad and Tobago Birding and Nature Tours feature 6 nights at the Asa Wright Nature Centre and 3 nights at the Cuffie River Nature Retreat or Blue Waters Inn on Tobago. Round trip airfare between Trinidad and Tobago is included, as well as all meals, and transfers and tours with expert birding guides. Tours are limited to 14 participants. For more information, go to Caligo Ventures' website at http://caligo.com/trinidad-tobago-tour-dates-and-prices.
More about Naturalist Journeys:
Naturalist Journeys LLC, a top birding and nature tour company, offers specialty small group tours and travel worldwide, from the western U.S. to Alaska, Hawaii and Florida, Trinidad and Tobago, Costa Rica, Panama, safaris in Africa and more. Naturalist Journey's guided nature and birding tours feature expert guides with decades of experience in birdwatching, travel photography and other forms of eco-tourism. Naturalist Journeys also offers hiking and adventure travel tours in many national parks and wildlife reserves, including the Galapagos, Antarctica and the Amazon.