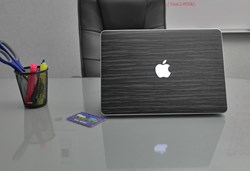 Miami, FL (PRWEB) January 31, 2014
MacDecals.com, a web based decal store, recently added a selection of 3M Di-Noc Wood Skins and original decal designs to the site's large inventory. These unique products will allow customers to transform a simple MacBook to an attractive, personalized accessory in seconds.
The new specialty Wood Skins are exceptional because they are higher quality and look better than traditional vinyl stickers. The skins are easy to apply; they go on in seconds and come off just as easily without any residue. The new Wood Skins keep your electronic device stylish and help prevent scratches.
MacDecals.com now offers a larger variety of wood options like white, black and dark wood. The new MacBook 3M Di-Noc Wood Skins are custom made to specifically fit each device.
With the launch of the new Wood Skins, MacDecals.com will be giving away iPhone covers through Social Media. Follow MacDecals.com on Facebook, Twitter and Instagram to get yours.
Nobody leaves empty handed. In the spirit of Valentines Day all orders placed on the site from February 1 – February 28, 2014 will receive a free heart decal.
Visit MacDecals.com for more information or to place an order.
About MacDecals.com
Founded in 2011, MacDecals.com is the online store for custom MacBook decals, stickers and skins. MacDecals.com specializes in designing and printing the highest quality vinyl decals for electronic devices. Can be used on MacBook, iPhone, iMac, iPad, laptops, car windows and more.
A made in the USA Business, MacDecals.com products are shipped nationally and extend across the globe. In addition to their constant growing selection of decal designs, stickers and skins they have a team standing by to make custom decals for businesses.