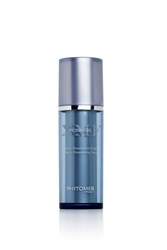 Saint-Malo, France (PRWEB) January 31, 2014
Available in spas in the United States and at http://www.lespausa.com.
Phytomer, pioneer in skin care for 40 years has revolutionized cosmetics with marine biotechnology and created a new generation of 100% natural, ultra effective and eco-friendly ingredients: Exopolysaccharides (EPS). Once again, Phytomer leads the way with the launch of PIONNIÉRE Radiance Retexturing Serum to offer a new skin texture, both perceptible by touch and visible to the eye. Formulated with revolutionary ingredients, this cream-gel serum combines two EPS' for the 1st time in cosmetics, Visible Marine Refiner (VMR EPS) and Extra Marine Filler (XMF EPS). Deposited on the surface of the skin, VMR EPS creates a natural invisible film that, within 1 hour restores hydration, smoothing roughness and refining skin's texture. XMF EPS acts at the heart of the skin by stimulating collagen and elastin fibers and hyaluronic acid, visibly smoothing wrinkles within 15 minutes. To complete the retexturing and smoothing actions of VMR and XMF EPS, Phytomer advanced research has incorporated a powerful antioxidant micro-alga, Eternelle Marine to restore Vitamin C and help limit the production of melanin. With a sophisticated scent and luxurious texture, PIONNIÉRE XMF Radiance Retexturing Serum transforms the skin with a new generation of technology.
PIONNIÉRE XMF Radiance Retexturing Serum......50 ml, suggested retail price $220.00
Directions for use: apply morning and/or evening to perfectly cleansed face and neck before usual facial cream. For optimal effectiveness, use in conjunction with PIONNIÈRE XMF Perfection Youth Cream.
Key ingredients:

XMF "Extra Marine Filler" - an exclusive discovery by Phytomer advanced
research, XMF is a high- tech marine sugar. XMF is an EPS (ExoPolySaccharide) -
a 100% natural ingredient with exceptional smoothing and densifying properties.
Instantly smooths wrinkles for crease-free skin. Densifies the skin mattress for
firmed, taut skin.
VMR "Visible Marine Refiner" - discovered by PHYTOMER advanced research,
VMR is a natural marine sugar reproduced in the laboratory via a technological
feat. It acts at the heart of skin by increasing the synthesis of proteins responsible
for the formation of the stratum coreneum for improved cell renewal. Skin
textured is refined and pores are diminished.
ETERNELLE MARINE - a micro-alga that owes its survival and longevity to an
ultra-elaborate photo- protection mechanism, THIOREDOXIN, a defense protein
found naturally in skin. Restores oxidized Vitamin C to relaunch its activity.
Diminishes production of melancortin to limit the production of melanin.
Refines skin's texture and radiance.
Phytomer at a glance:
With over 40 years as the leader in the marine skin care, Phytomer is now a pioneer in the field of marine biotechnology, the future of results-oriented cosmetics. This is the newest technology to create innovative, 100% natural skin care ingredients. Based in Saint-Malo, France and distributed in 70 countries worldwide, Phytomer has a reputation of leadership and excellence within the spa industry. With Phytomer meaning "plant of the sea," we utilize seawater, seaweed or seaside plants in every retail and professional product, combining science with the natural powers of the sea. We are one of the only spa brands with our own laboratory, allowing us to research and cultivate our own ingredients, develop unique cosmetic formulas, manufacture skin care products and create cutting-edge professional treatments to deliver remarkable results.