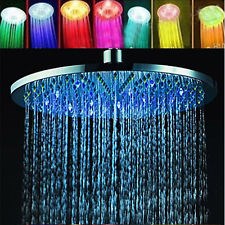 I just knew that adding automated colored lighting to my bathroom would be calming and soothing.
(PRWEB) February 05, 2014
Superior Builder and Remodelers, an Oakland-based, residential remodeling contractor, today announced the launch of its new bathroom service called Bathroom Relax. It's based on the ideas of chromatherapy, a practice that uses light to enhance mood, promote relaxation and provide excitement to a homeowner's bathroom experience.
Superior Builders is offering a complimentary Bathroom Relax appointment for Bay Area residents who wish to add colored lights to their bathroom remodels.
"Colored lights in the bathroom may see like a novel idea to someone remodeling a bathroom, but it's been a regular feature at spas and resorts for many years," said David Lorber, owner of Superior Builders and Remodelers. "It's now popular with homeowners because it's more affordable. You no longer need to be on vacation to have a bathroom spa experience."
Chromatherapy is the use of colored lights to balance energy, wherever a person is lacking in vitality— whether that's physical, emotional, or spiritual. "There seems to be a power to color when it comes to releasing stress," Lorber added. "Creating a colored light experience in the bathroom can have a positive impact on one's overall sense of well being."
Janet Bautista, who had her Castro Valley home remodeled by Superior Builders, had chromatherapy lights installed in her family's master bathroom and recommends the service.
"I was determined to get color lights installed when Superior Builders remodeled the bathroom," explained Bautista. "I knew adding automated colored lighting to my bathroom would be calming and soothing and it really is. Humorously, I always say to my husband Jerry, 'it's the greatest shower in the whole world,' but it really is. It's got steam, music, a massage function and, of course, colored lights."
The Bautistas' colored lighting control, which is mounted inside their bathroom shower stall, allows for a range of lighting effects. Lighting programs with names like "Dawn," "Dusk," "Water Reflect," and "Storm Cloud" can be selected to create different lighting moods, "all of which are calming in different ways," said Bautista.
In chromatherpy, colored lights are associated with different emotions and reputedly promote a sense of physical calm, mental well being and other healing emotions. Blue, for example, is often seen as a calming color. Red is associated with energy and power; and orange is linked with enthusiasm.
Lorber is clear to point out that Superior Builders and Remodelers makes no scientific claims to the healing powers of its Bathroom Relax remodeling service."Our Bathrooom Relax system is not a type of therapy or an answer for solving someone's health issues," Lorber emphasized. "But colored lights do seem to have some positive benefits. The colored lights add excitement to someone's bathroom experience and seem to help a person unwind and relax after a busy day. "
As a remodeling contractor with more than 30 years of experience, Lorber understands the need for appropriate lighting in every room. "In some sense, we're broadening the use of bathroom lighting," he explained. "We believe homeowners who remodel and select our Bathroom Relax option will get a lot out of it--and recognize something unique and special about it."
Contact: David Lorber, Owner
dleelorber(at)gmail(dot)com
510-658-7252
###