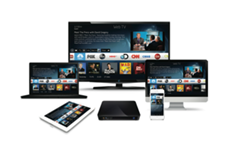 Denver, Colorado (PRWEB) February 04, 2014
aioTV, a global leader in OTT middleware used by video service providers and content owners to aggregate traditional multi-channel, VOD, OTT and live streaming content to the TV and across devices, in a unified experience, under a service provider's brand continues to raise the bar on innovation, opens up policy to support Colorado's new marijuana laws.
"As a startup we need independent thinkers and brilliant minds to be competitive in the market, we are doing big things," said Mike Earle, aioTV CEO. "Some of the greatest leaders and greatest minds in the industry: Jobs, Brin, Clinton, Gates, Bush have set precedent. For us it's simple, TV is changing; we are at the forefront of this change and we need to attract top talent that want to do the best work of their careers. Here at aio that means challenging the boundaries of creativity, thinking big and delivering the passion needed to pivot traditional TV to the connected experiences consumers want."
aioTV is expanding at a tremendous pace and will continue to add software developers, sales professionals, system engineers and designers to support platform implementation. To attract and retain the best talent, Colorado's policies are a competitive advantage over California, which is important to us and ultimately our customers.
Interested applicants can send area of interest and resumes to jobs(at)aio-tv(dot)com.