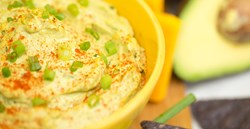 Orem, UT (PRWEB) January 31, 2014
The Big Game is upon us! This weekend, the nation will watch the Seattle Seahawks battle the Denver Broncos and snack the day away.
Throwing a Game Day party can be a bit stressful, with all the cleaning (before and after) plus food prep. But, there is one kitchen innovation company that can make the latter part just a little easier. Blendtec has some fabulous ideas for game day food, and all of them can be made using just one appliance:
Appetizer Ideas: Forget the traditional dip in a jar; try some of these unique spreads instead.
Black Bean Hummus
Guacamole Cheese Dip
Hawaiian Fruit Dip
Appetizer Cheese Ball
Beverage Ideas: Though beer is often the beverage of choice on Super Bowl Sunday, here are a few fun alternatives.
Frozen Bloody Mary
Blood Orange Mojito
Caramel Apple Cider
Dessert Ideas: Even if something sweet wasn't originally in the "game plan," these recipes might be enough reverse the call.
Decadent Chocolate Mousse
Peach Empanadas
Spinach Ice Cream
All these (and more) can be found on the Blendtec Recipe website.
About Blendtec
Blendtec designs and manufactures the world's safest and most powerful high-speed commercial and residential blenders. All Blendtec blenders are designed and assembled in the USA at the company's Orem, Utah facility. For more information, visit http://www.blendtec.com.