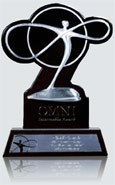 These awards are a testament to our commitment and our clients' commitment to creating engaging e-learning experiences that are meaningful, memorable, and motivational. — Michael Allen
Minneapolis, MN (PRWEB) January 31, 2014
Allen Interactions, an internationally-acclaimed custom training design, development, and strategic consulting firm, was recognized as a four-time winner of the Fall 2013 Omni Intermedia Awards. Allen Interactions garnered two silver awards for their work with Google on Google Now and Essilor's APEX Sales Account Selling course. Allen Interactions also won two bronze awards for Essilor's APEX Sales Account Planning course and University of Saudi Arabia's Present Progressive e-learning course.
Essilor, world leader for corrective lenses, develops a wide range of lenses to correct and protect eyesight. The APEX program is key to Essilor's success as it provides a consistent approach to training employees. Currently, there are three levels of Training and Certification in APEX: Bronze, Silver, and Gold. The award-winning APEX Sales Account Selling and Planning courses provide Essilor's sales managers with real-world scenarios to improve performance in the topics of territory optimization, territory planning, account selling, and account planning.
The University of Saudi Arabia needed a better way to teach students Present Progressive verb forms: I am going, She/He is going, They are going, etc. Allen Interactions used Context, Challenge, Activity, and Feedback to create an e-learning course where the context was students' daily life and the challenge and activity were speaking English correctly to describe what students saw around them. Colors, images, and design were chosen to complement the rich desert heritage of the students in Saudi Arabia.
"We are continuously humbled and honored to receive such recognitions," stated Michael Allen, CEO, Allen Interactions. "These awards are a testament to our commitment and our clients' commitment to creating engaging e-learning experiences that are meaningful, memorable, and motivational."
About The Omni Awards
The Omni Intermedia Awards are owned and operated by Media Corp Inc., which exists to recognize outstanding media productions that engage, empower, and enlighten.
They are primarily focused in the covering fields of Film, Video, TV, Internet, Interactive Media, Animation, and Audio Production. As a nationally known award competition, they have developed their reputation by only awarding those people who exemplify the highest standards of quality.
Media Corp Inc. is also dedicated to educating and training higher education students. Media Corp. Inc. has participated in training students for several events, including The Goodwill Games, ABC Monday Night Football and planning for many recent Olympic Games. They are committed to the idea that today's students will lead tomorrow's media companies. By offering them real-world experience during these formative years, Media Corp. Inc. hopes students will be able to handle the stress and challenges of tomorrow.
About Allen Interactions
Allen Interactions is an internationally-acclaimed company focused on improving performance through powerful learning experiences. For 20 years, Allen Interactions has designed and developed cusotm e-learning and blended learning solutions that address the widely varied performance goals of the world's leading organizations. With a wealth of experience and a track record of success in instructional design, technology, creativity, process, and project management, Allen Interactions consistently achieves positive business impact. For more information, visit: http://www.alleninteractions.com.
In 2009, the company established Allen Learning Technologies to create a revolutionary, web-based authoring and publishing system, ZebraZapps, which empowers serious authors to create, publish, collaborate, and share powerful learning experiences—all via a professional grade, visual editor. For more informationm visit: http://www.zebrazapps.info.