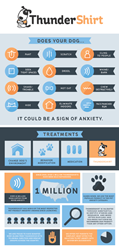 This behavior is rooted in anxiety, and can be effectively and easily treated.
Durham, NC (PRWEB) February 01, 2014
As one of the most reported noise complaints in neighborhoods throughout the United States, excessive barking can take a frustrating and problematic toll on dog owners. From costly fines, police warnings and dealing with irritated neighbors, to risking potential revocation of a pet, this negative behavior poses a serious threat to the overall wellbeing of pets nationwide. Recent studies have proven that excessive barking is more than just a nuisance; it can be a sign that a pet is unhappy, unhealthy and should be attended to immediately. ThunderWorks has released a new informative infographic that visually outlines those symptoms, such as excessive barking, rooted in anxiety.
Pinpointing the exact cause of excessive barking can be difficult to identify. Many blame poor training, hunger and boredom. But, what pet owners may not know is that barking, along with a myriad of other negative dog behaviors, is commonly rooted in anxiety and stress. By treating the anxiety and stress, a calmer dog will exhibit fewer symptoms of anxiety.
"For example, excessive barking can result from a dog's separation anxiety from their owner, or fear of strangers entering your home," said Phil Blizzard, founder and CEO of ThunderWorks. "There are a variety of possible situations that are stressing your dog out, and causing them to bark excessively. This behavior is rooted in anxiety, and can be effectively and easily treated."
Thousands of veterinarians and trainers nationwide use and recommend ThunderWork's premiere product- the ThunderShirt. Since 2009, this patented, proven solution has been reducing anxiety among millions of dogs and cats around the world. With its gentle constant pressure, the ThunderShirt has a dramatic calming effect for dogs and cats if they are anxious or fearful. Similar to the effect swaddling has on a newborn baby, the most common anxiety triggers in our pets are relieved due to the ThunderShirt's unique design which assists in releasing calming hormones like endorphins or oxytocins. ThunderShirt can be beneficial for excessive barkers during time alone or outside, easing separation anxiety and making the dog feel calmer during their owner's absence.
For dogs requiring added distraction, ThunderWorks also offers the ThunderToy and ThunderTreat anti-anxiety combination. Together, the ThunderToy and ThunderTreat work as a thoughtfully designed puzzle-chew toy. Dogs are distracted and stimulated, working through the toy so that it will dispense the ThunderTreat as a reward. By providing a dog with something other to do than bark, their mind is taken away from barking and focused on the challenge of getting a treat. The ThunderTreat is made in the USA with natural, calming ingredients such as chamomile and lavender.
Additionally ThunderSpray calms and comforts pets by mimicking a mother's natural pheromones and is comprised of soothing fragrances of lavender and chamomile. ThunderSpray can be used in two ways: by spraying a single burst in the area where pets spend time, like a car or crate, or in conjunction with the ThunderShirt and sprayed on the neck of the ThunderShirt. The calming pheromones and fragrances will continue to release for an extended period and the liquid will dry stain-free. When a dog smells the calming pheromones they are reminded of scents similar to their mother's or other dogs, making them feel less lonely and less anxious about being alone. When a dog feels less anxious, their barking decreases.
For more information about pet-related anxiety or product information, visit http://www.ThunderWorks.com. If you are a member of the media and would like more information about ThunderWorks, or any of the products discussed, please contact Kerry Sutherland at K. Sutherland PR, Kerry(at)ksutherlandpr(dot)com or (949) 328-4895.
About ThunderShirt and ThunderWorks
Founded in 2009 in Durham, N.C., ThunderShirt's mission is to bring relief to the millions of dogs, cats and their families struggling to cope with anxieties. The ThunderShirt is designed to apply a constant, gentle pressure to a dog or cat's torso creating a dramatic calming effect for most users. ThunderShirt continues to investigate anxiety and fear issues with scientific-based studies and surveys from recognized veterinarians and pet owners. ThunderShirt has already helped millions of dogs and cats across the country and around the world. The company also donates thousands of ThunderWorks products and funding to rescue groups and shelters to help these organizations manage their anxiety cases and find permanent homes.
In recognition of the company's expanding product line into more calming solutions, ThunderShirt has changed its corporate name to ThunderWorks. As always, the company is committed to developing calming pet products that are effective, simple to use and strengthen the bond between pet and pet parent. Together, let's be better humans to our pets. Products are sold at http://www.ThunderWorks.com and by retail stores, veterinarians, trainers and kennels across the country.