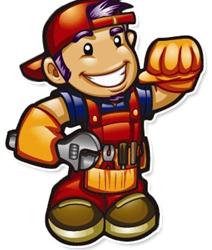 Customer service is a multi-faceted concept for The Drain Dudes®, encompassing all areas that impact client satisfaction.
Los Angeles, CA (PRWEB) January 31, 2014
Customer service has long been a priority for The Drain Dudes®, a well-known Los Angeles plumbing company specializing in drain cleaning. This year, however, The Drain Dudes® plans to really place excellence in customer service in the spotlight as their New Year's resolution for 2014. According to the owner of the company, customer service is a multi-faceted concept for The Drain Dudes®, encompassing all areas that impact client satisfaction. Therefore, in order to stick to their resolution they must excel in all the following areas:
Attitude
Customer service with a smile is the motto of many businesses, including The Drain Dudes®. All of the company's plumbers are trained to be courteous, respectful, friendly, and professional while in customers' homes or businesses.
Timeliness
Availability of timely service is a vital component of excellent customer service. The Drain Dudes® recognizes this by offering 24/7 emergency service. In 2014 the company expects to pay special attention to maintaining its fleet of environmentally-friendly service vehicles. The volume and frequency of calls from various areas will also be monitored to ensure adequate staff is always on call to respond to customer needs.
Affordability
The Drain Dudes® has resolved to keep their services affordable in 2014 as part of the effort to excel in keeping customers happy. Specials will be offered throughout the year to help customers benefit from preventative services such as plumbing inspections and drain cleanings.
Quality of Work
The Drain Dudes® stands behind the quality of its work, and maintaining high standards of quality will continue to be a priority in 2014. All of the company's plumbers are fully trained and highly experienced. They are expected to provide quick diagnoses, accurate estimates, and effective repairs for all kinds of plumbing issues. Many more satisfied customers are expected to result from this ongoing commitment to excellence.
Client Education
Part of providing good service to the customer is educating them about the factors that are contributing to their drain and plumbing problems and helping them to prevent or overcome those factors. For example, drain cleaning is a vital preventative service that can help reduce the risk of a drain overflow or backup and therefore also reduce the potential for damage to pipes, plumbing fixtures, and furnishings in a home or business. Even though this approach may lead to fewer repair calls for The Drain Dudes® to answer, the company remains dedicated to promoting prevention because it is best for the customer.
About The Drain Dudes®
The Drain Dudes® is a full service plumbing company committed to providing customers with the best, the fastest, and the cheapest plumbing services in Southern California. With an extensive mobile fleet of professional plumbers available to serve customers 24/7, The Drain Dudes® can provide drain cleaning, leak detection, septic tank service, trenchless sewer repair, and other plumbing services right when customers need them.
Contact Information:
Call The Drain Dudes® toll free at 877-700-0160 or visit http://www.draindudes.com