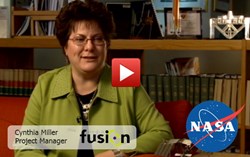 Now that we have all the processes in our system, it literally takes minutes to make a change to our process.
Washington, DC (PRWEB) February 13, 2014
Media Fusion, creative agency in charge of printing and graphics at NASA headquarters, was the focus of the latest case study by JobTraQ. The study shows increased efficiencies and production volume of creative materials developed for NASA through the use of projection management software.
When Media Fusion originally won the NASA contract, they inherited an obsolete database to utilize for project management. The old system was not sufficient and did not allow the functionality needed to adequately support NASA. A year and a half into the contract, they chose to implement JobTraQ.
Project Manager, Cynthia Miller, has been a supporter since day one. Miller says, "Using the JobTraQ system has allowed us to reduce the time it takes to get a product back to our customer. It's reduced the need for paper forms, so we've been able to reduce printing costs. It's allowed us to track metrics so we can tweak our workflows and be more efficient with the cost of the products. We can report back to NASA what they are actually paying for the product, which they've haven't been able to do in the past."
The case study details the use of project management software for higher level staff use including Ad Hoc reporting, tracking metrics, production management, and cost detailing. In Cynthia Miller's position with Media Fusion, she is constantly using this data to improve her team's performance. Miller says, "I had a sense of where we needed to improve, but this gives me the factual data that I need to be able to go back to my management and ask for more funding, or to get processes approved so we can continue to do bigger and better jobs for NASA."
Swift Software, makers of JobTraQ, provide an enterprise level BPM and project management software system that makes companies more competitive in their various markets. Clients who have successfully and rapidly implemented our agile solution include Fifth Third Bank, AutoZone, TOTAL Oil and Gas, MiSWACO, and the FDA. To learn more about how JobTraQ Project Management and BPM software can improve your workplace productivity, request a free live demonstration of the product.