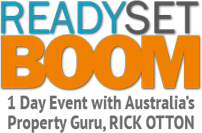 ...there are many cost-effective ways to make houses attractive to buyers.
(PRWEB) January 31, 2014
Property developers in West Sydney are giving their residential projects aspirational names such as "The Avenue," "Ropes Crossing," "Jordan Springs," "The Ponds," and "Bella Vista" to attract more buyers into their new suburbs, the Daily Telegraph reported on 29 January 2014.
While many of these developers are seeing positive feedback in their marketing campaigns, Rick Otton, a renowned Australian property investor and mentor, turns his focus to everyday investors who do not have the marketing budget of property developers.
"Rather than focus on fancy marketing strategies to get people into Sydney real estate, there are many cost-effective ways to make houses attractive to buyers," commented Rick Otton who has taught his creative seller finance strategies in Australia for over 14 years.
"If you want to make an Australia real estate sell faster, you need to get more people interested in buying it. When a lot of people are interested in investing – and are able to buy it – it will move like lightning. It's basic supply and demand. This simply involves changing the terms on how buyers can pay for the property without having to pay a large deposit or even applying for a new bank loan," Mr. Otton explained in a recent interview for his upcoming tour Ready, Set, Boom.
"For example, if an Aussie wants to buy a house with a $500,000 price tag, they need to pay A 20 per cent deposit ($100,000) plus $20,000 - $25,000 for stamp duty and legal costs before they can get their foot in the property. Not a lot of people have $125,000 lying around, so the number of people who can buy the property immediately shrinks," he shared.
"But if the seller tells buyers that they only need to give $20,000 cash right now and leave the rest for later, that seller will attract more potential buyers because far more people have the $20,000 now rather than $125,000," Mr. Otton said.
For more info on Rick Otton's free one-day property seminars this February, visit http://readysetboom.com.au/.
About Rick Otton
For over 23 years, property millionaire Rick Otton has built an impressive real estate portfolio using innovative strategies that he has developed – strategies in which transactions are made without the need for traditional bank-type loans.
He constantly refines his techniques as he buys and sells properties through his We Buy Houses business which operates in Australia, New Zealand and the UK.
A gifted speaker and educator, Mr Otton conducts regular one-day free seminars across Australia, which build on the the concepts he shares in his 2012 book 'How To Buy A House For A Dollar', voted by Money Magazine and Dymocks Book stores as one of the Top 10 Most Popular Finance Titles for 2013.
He regularly records and publishes iTunes podcasts via his channel Creative Real Estate.
His innovative low-risk, high-reward approach to Australian real estate investing has been featured in a variety of television programs and magazines, including Today Tonight, Hot Property and Australian Property Investor.
To register for one of Mr Otton's free Australian one day seminars, visit ReadySetBoom.com.au or phone, in Australia, 1300 888 450.