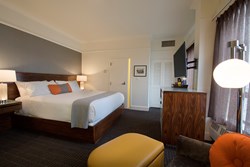 In these new rooms, guests will find not just refreshed style but serious substance – from faster connectivity to more functional furnishings – that will make their stay at Hotel Lucia an even more restful and inspiring experience.
Portland, OR (PRWEB) February 03, 2014
Bashar Wali, President of Provenance Hotels, announced today the completion of a major renovation of the guest room floors at Hotel Lucia in Portland. The project, at a price of more than $2.3 million, brings a brand new look and feel to the guest room corridors and 127 sleeping rooms with new furniture, lighting, drapery, and carpet in every room. It also includes a guest room technology package designed to make being connected at Hotel Lucia fast, easy and intuitive.
"Coming on the heels of Hotel Lucia's recent collaboration with Intel Labs to create an interactive social media installation in the lobby, this room renovation continues our creative reimagining of the nexus of technology and design," said Wali. "In these new rooms, guests will find not just refreshed style but serious substance – from faster connectivity to more functional furnishings – that will make their stay at Hotel Lucia an even more restful and inspiring experience."
In Hotel Lucia's guest rooms, the feeling of luxury and spaciousness has been enhanced with artfully scaled, custom designed furniture made of rosewood. A timber prized for its rich hues and dramatic grain, rosewood is typically employed in the production of small handcrafted items like guitars. At Hotel Lucia, it was used to create sleek, modern bed frames with integrated headboards and nightstands. Spanning the entire wall behind each bed, these functional yet dramatic elements are topped with Starphire glass in a milky mint hue. New rosewood dressers feature the same glass on the drawer fronts and side tables and desks made of rosewood are topped with it as well. This new furniture provides a warm visual pop against freshly painted white walls, textured wall treatments in a cool, grey tweed pattern and plush midnight blue carpet featuring a wavy, organic grey grid pattern.
Hotel Lucia's new guest room design creates a tranquil, restful space where travelers can sleep soundly on new top of the line Simmons Black Label Napa mattresses and 100% Egyptian cotton bedding made in Italy by Mascioni Linen. Custom made lighting includes ceiling mount fixtures, dramatic adjustable hinged floor lamps with opaque glass globes, and dimmable three way side table lamps with silver and gold striated bases. On the windows, chocolate sheers offer privacy and provide a rich counterpoint to bold citrine graphic print drapery. This inviting golden hue reappears in the form of sleek ottomans that pair beautifully with deep orange pillows on the bed. Orange pillows are also used to accent warm, slate grey velvet reading chairs in all rooms and cool fog grey upholstered sofas in the junior suites.
Tech savvy travelers will find Hotel Lucia's new guestrooms more convenient for work and play. The entire hotel has been upgraded with a fiber optic network that, rather than copper wire, uses is glass strands to transmit data at the speed of light, resulting in download speeds of up to 100 MB per second. In addition to blazing fast internet service, every room now boasts a desk equipped with Teleadapt charging ports featuring USB, tablet and standard outlets to keep guests powered. USB connections and electrical outlets can also be found in the bases of all bedside table lamps and rooms boast I-Home Bluetooth clock radios capable of charging and playing iOS enabled smart phones. New wall mounted 40"and 44" Samsung HD TV Performance Line televisions with Comcast HD service make enjoying in-room entertainment an immersive experience.
Updating the guest room floors is the first phase of a full renovation of Hotel Lucia that is slated to be completed in 2014. Phase two will include renovation of the lobby, meeting rooms and all public space.
# # #
About Hotel Lucia
Centrally located at 400 SW Broadway in the heart of downtown Portland, Hotel Lucia is an art-filled escape just steps from the city's best shopping, restaurants and night clubs. This hotel offers 127 guest rooms and indulgent but essential amenities including Portland's own Portland Roasting coffee and Smith Teas; Provenance Hotels' signature Pillow, Spiritual and iPod menus; and a "Get it Now" button on every hotel phone for the most whimsical desire or typical need. The Hotel Lucia can be reached by calling 503-225-1717 or found online at http://www.hotellucia.com
About Provenance Hotels
Provenance Hotels are award-winning urban boutique hotels with a distinct and deeply integrated art story. They include Hotel deLuxe, Hotel Lucia and the Governor Hotel in Portland, Ore., Hotel Max in Seattle, Wash., Hotel Murano in Tacoma, Wash., and Hotel Preston in Nashville, Tenn. Provenance Hotels can be found online at http://www.provenancehotels.com.