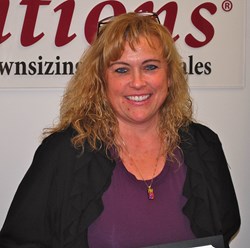 Binghamton, NY (PRWEB) January 31, 2014
Megan Clark is excited to announce the grand opening of her new business, Caring Transitions of Binghamton, New York. The new business specializes in organizing and managing senior moves, downsizing, liquidation of belongings and estate sales.
Opening her own business all started when Clark's extended family buried a family member about five years ago. She witnessed first-hand the difficulty of clearing out an assisted living apartment within a week while putting together a funeral and grieving alongside friends and family.
"In March of last year I discovered Caring Transitions while looking for a new career path for me and my then recently disabled husband, who had no desire to be disabled or retired. When I looked at Caring Transitions more closely, I found it was pretty much the same business that I saw a need for five years earlier," Clark said.
"There are wedding coordinators and family and friends to help with new babies, but until now there really hasn't been anyone who can help with everything that needs to happen with end-of-life transitions," she added.
Founded in 2006, the Caring Transitions franchise has been a trusted and highly respected national company leading the way in s enior moving, household liquidations and estate sales management in dozens of cities across the United States. Caring Transitions is part of the International Franchise Association, the Small Business Association's Franchise Registry, VetFran and Minority Fran.
Caring Transitions of Binghamton serves Binghamton, Johnson City, Vetal, Endicott, Owego and the surrounding areas.
Clark is looking forward to being a small business owner and providing a needed service to her community.
"This is genuinely an area that needs attention in our community. There are so many people who go through difficult end-of-life transitions, but there's no one to help. That's the void we're looking to fill. I want to make this the kind of organization people can turn to during a difficult time," Clark said.
For more information about how Caring Transitions of Binghamton can serve you and for a free on-site consultation, call (607)238-2609, email mclark@caringtransitions.net or visit http://www.estatemovebinghamton.com.