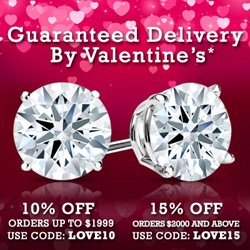 Los Angeles, CA (PRWEB) January 31, 2014
DiamondStuds.com knows that no two loves are ever the same and your unique love is no exception. DiamondStuds.com has created three easy steps to customize and create a one of a kind Valentine's present. To create the perfect pair just select the diamond shape, then the setting and finally the metal. After fashioning a pair of unique diamond stud earrings, customer may enter the coupon code, LOVE10 to receive 10% off any purchase, and orders over $2000, customers can enter LOVE15 to get 15% off their purchase.
DiamondStuds.com makes finding the perfect Valentine's Day gift effortless and romantic. There is no better time to express love than by buying a stunning pair of diamond earrings. At DiamondStuds.com we believe "Creating a customizable pair of earrings expresses the unique qualities of the love you care about." With the added promotional coupon, LOVE10 or LOVE15, buying jewelry on Valentine's Day has never been more convincing and exciting. Along with roses and romance, DiamondStuds.com will create a lifelong memory.
About DiamondStuds.com:
Armed with a mission of lasting excellence and superior knowledge about diamonds, DiamondStuds.com focuses solely on diamond stud earrings. The attention to details allows the company to offer their consumers the largest selection of fine diamond earrings online. DiamondStuds.com also provides a huge array of customization options, enabling each individual to create an exquisite pair of studs, halo earrings, gemstone earrings or fashion earrings unique to his or her personal preferences. To learn more about DiamondStuds.com, please browse the website at http://www.diamondstuds.com or Follow Us on Facebook and Pinterest. Customers can call DiamondStuds.com at 1-855-WOW-STUDS (1-855-969-7883), to speak live with a diamond expert or send an email to info(at)diamondstuds(dot)com.