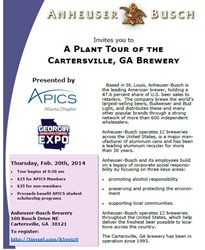 These tours continuously educate people on the quality items coming from the manufacturing industry in Georgia.
Atlanta, GA (PRWEB) January 31, 2014
Georgia Manufacturing Expo and APICS Atlanta have teamed up to offer a tour of the Anheuser Busch Brewery in Cartersville, Georgia next month.
The tour will take place February 20, 2014 and is open to the public with registration. Anheuser Busch operates twelve brewing facilities in the United States. The two organizations are working together to show the type of quality products the Georgia manufacturing industry produces.
The mission of each organization directly involves the manufacturing industry. While APICS addresses issues dealing with operations management and supply chain management, GME focuses specifically on the industry in Georgia, highlighting the people, plants, and products that are made throughout the state. Plant tours are part of GME's initiative to educate consumers on the items they may purchase everyday that are made in Georgia.
"We have these tours to continuously educate people on the quality items coming from the manufacturing industry in Georgia, not just during the Expo itself but throughout the entire year," said Jason Moss of GME.
Previous tours have included companies like Biggs and Stratton, and January's tour featured the ZF Wind Power Plant in Gainesville. About thirty manufacturing industry and local community members toured the $98 million facility that opened in 2011. The Gainesville plant produces wind turbine gear boxes that have a life span of 20 years. According to Elizabeth Umberson, President at ZF Wind Power, the plant can generate up to one thousand gear boxes per year, each weighing in at sixteen tons.
ZF Industries began in Germany as a company that produced transmissions for motor vehicles and aircraft. It has grown into a global innovator in the alternative wind energy movement with 121 production locations worldwide. The Gainesville plant, which began production in 2012, follows the trend of non-domestic companies investing in Georgia manufacturing plants.
As advocates for the manufacturing industry, APICS Atlanta and GME will sponsor future tours at other manufacturing plants. Attendees of this year's upcoming Georgia Manufacturing Expo should expect to see companies like Anheuser Busch and hundreds of others with their Georgia-made products and services. The Expo will happen June 13-14 at the Gwinnett Center.
GME will continue its mission through tours, trainings, and other programs, which you can find by visiting GeorgiaManufacturingExpo.com. Once at the site you can register for the February tour by selecting "Plant Tours and Events" in the list of Quick Links.