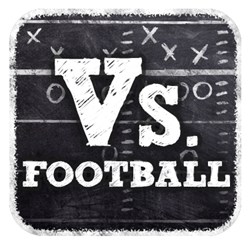 KANSAS CITY, Mo. (PRWEB) January 31, 2014
The Super Bowl is only days away. While fans cheer on their favorite team from the sidelines, they can have some fun of their own with free printable interactive games by Vs. Football.
Vs. Football, a free mobile app launched during the heart of football season last October, brings fans three printable games to share with family and friends this Sunday.
ULTIMATE STRATEGY: SUPER BOWL PREDICTION PLAY GAME/PROP POOL
Want to put a wager on the Super Bowl? Don't just settle for betting on the final score; up the ante – as Vs. Football fans are known to do – by challenging friends to correctly predict the most "prop" bets. Try to predict questions like "Will the coin toss be heads or tails?" and "Will a quarterback score a touchdown?" This fun scoresheet allows each fan to score his predictions while watching the big game. Determine ahead of time what cache the winner will receive (a 12-pack? Gametime snacks? Cold, hard cash?) in the spirit of true competition. Download this printable game for watch-party guests.
Download Vs. Football Super Bowl Prediction Sheet Game – Prop Sheet – Prop Pool: http://www.playvsfootball.com/vs-football-super-bowl-prediction-sheet-game-prop-sheet-prop-pool/
FUN FOR ALL: SUPER BOWL FAMILY GAME
Looking for an interactive way to turn the Super Bowl into a family affair? Let every member of the family anticipate every touchdown, celebrate every interception and get fired up over every field goal with Vs. Football's Family Game Cards. This downloadable set comes with 12 different cards composed of actions to do after every big play. Kids and adults alike will have fun disco dancing, doing "the robot" or posing for the paparazzi. . Download this set of printable cards for family and friends to play during the Super Bowl.
Download Vs. Football Family Game Cards: http://www.playvsfootball.com/vs-football-super-bowl-family-game-cards/
DOUBLE THE FUN: SUPER BOWL DRINKING GAME
Grab a drink and settle in this Sunday for Super Bowl XLVIII. To spur on a lively crowd, pass out Vs. Football Drinking Game cards – developed by the gridiron gurus at Vs. Football – and crack open a cold one. Then let the big game determine the fun. The printable cards outline fans' fate: Take a drink every time Peyton Manning says "Omaha" or throw down a gulp if Richard Sherman does an on-field excessive celebration. Ready to play? Download the entire set of drinking game rules for friends to play during the Super Bowl.
Download Vs. Football Super Bowl Drinking Game: http://www.playvsfootball.com/vs-football-super-bowl-drinking-game/
"We had fun creating games for fans to play during one of the biggest sports events of the year," said Kirsten Samuelson, public relations intern for Vs. Football. "We wanted to make these games as a thank you to our loyal fans that enjoy Vs. Football as much as we do."
The free printables are available now, a week after Vs. Football launched a new update of its interactive mobile gaming app. The updated version offers improved chat function and features a new invitation process, allowing users to connect via text message, e-mail and Facebook to invite friends to play the game. The most exciting addition allows for the random opponent feature, allowing football fanatics to challenge random opponents to a game of Vs. Football, providing endless possibilities to test their play-calling skills.
The turn-based football game app pairs gridiron strategy with mobile gaming, allowing users to get their football fix at any time of the day or night. Don't despair, the Super Bowl may signal the end of the NFL season, but true fans can maintain the football frenzy year-round with Vs. Football.
Ready to play Vs. Football?
Download the Vs. Football App on iTunes for iPhone:
https://itunes.apple.com/us/app/vs-football/id700513212?ls=1&mt=8
Download the Vs. Football App on Google Play for Android:
http://play.google.com/store/apps/details?id=com.engagemobile.vsfootball
Check out the website at http://www.PlayVsFootball.com.
Vs. Football is a turn-based mobile football game developed by Engage Mobile Solutions and available for free on Google Play for Android devices and the Apple iTunes App Store for iPhones and iPads. The game is like Words with Friends and other turn-based games but focuses on football strategy that lets players make the call. For more information about Vs. Football, visit http://www.PlayVsFootball.com or contact Kirsten Samuelson at ksamuelson(at)playvsfootball(dot)com.
###
About Engage Mobile Solutions
Engage Mobile Solutions is an award-winning mobile app and mobile software development company with a focus on mobile strategy and mobile marketing. Based in Kansas City, Mo., the firm helps companies leverage mobile technology and marketing to drive profitability through increasing revenue, decreasing costs and managing risk. For more information about Engage Mobile Solutions, visit http://www.engagemobile.com or contact Matthew Barksdale at mbarksdale(at)engagemobile(dot)com.