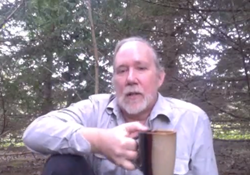 When people have a good sense of how you can help, and get a good taste of what that's like, then those who need the work can climb aboard with confidence. It's about openness and truly being of service.
Munnsville, NY (PRWEB) January 31, 2014
When Tim Emerson first posted a video for Kwan Yin Healing, his friends had to talk him into it. "When I hear you talk about what you do, it makes me want to book a session with you," added a MasterMind group member. That was the beginning of a YouTube channel viewed 28,785 times to date: http://www.youtube.com/KwanYinHealing.
"First, I was just explaining how Reconnective Healing worked. Then I did a demo session and caught some client responses on camera." That first video, "How Reconnective Healing and The Reconnection Work," has been watched 8,158 times, and the "Reconnective Healing Session with Client Testimonial" has been seen 6,578 times so far.
"I especially was surprised at the international attention," shares Emerson. Viewers come from 25 countries, including not only the U.S., Canada, the U.K. and Australia, but also Brazil, Mexico, Taiwan, India, and several European nations. His clientele is similarly international, including four continents.
Subsequent videos include short versions of blog posts, highlights of teleseminars, and previews of program content, such as "Why we're stuck, What keeps us stuck, and How to get Unstuck – in 9 Steps," "12 Misperceptions about the Law of Attraction," "Leaving the Comfort Zone, Facing Fear—and why to do it," "Raising Vibration and Levels of Being," "Healing isn't Magic," and "The Kwan Yin Journey."
Previously, this has been a "once in a while" proposition. In 2014, Kwan Yin Healing will be posting regular content for subscribers. "A few more subscribers find the channel each week," explains Emerson. "It's time to address them regularly, just as I do email subscribers." With an emphasis on content, Kwan Yin Healing's email newsletter continues to attract new subscribers as well. "Basically, we'll be taking the best of what's going on for a month, what's coming up, sorting out which of that works best on video, and putting that out there on as part of regular operations. It's time to reward subscribers, both new ones and the earlier ones."
Video content is only part of the complementary offerings from Kwan Yin Healing. The Kwan Yin Healing Facebook page boasts over 31,000 fans, the "A Healer's Café" blog features practical approaches to healing, and email subscribers have enjoyed a series of "11 Tips for Self-Healing," "Ten Meditation Tips for People who Can't Meditate," and more recently "The Kwan Yin Path," a series of seven hours of recorded teleseminar material on the most common difficulties clients face, called "Six Days, Six Sessions, Six Seeds for Success," available from the Kwan Yin Healing web site, http://kwanyinhealing.com.
"It's important that every interaction with Kwan Yin Healing, even just a curious 'look-see,' be a positive and productive experience," explains Emerson. "When people have a good sense of how you can help, and get a good taste of what that's like, then those who need the work can climb aboard with confidence. It's about openness and truly being of service."
Kwan Yin Healing was founded in January, 2012, to accommodate Emerson's growing healing clientele. His approach of setting out practical, systematic processes quickly earned him a loyal following, and saw the creation of his signature Kwan Yin Journey program, an 11 week comprehensive road-map to greater peace and progress on life's path. A similar program, the Healing Journey, is in the works for 2014. More information is available at http://kwanyinhealing.com.
Emerson is a member of the North American Evolutionary Business Council, a 150 member organization of business thought leaders, and the President of the Syracuse Chapter of the Holistic Chamber of Commerce, serving the entire Central New York State region. His book, "Getting Unstuck: Heal your Life, Live your Dreams," is also slated for release later in 2014.